 VitaFerr Express, "convenient" iron from Petrovax Pharm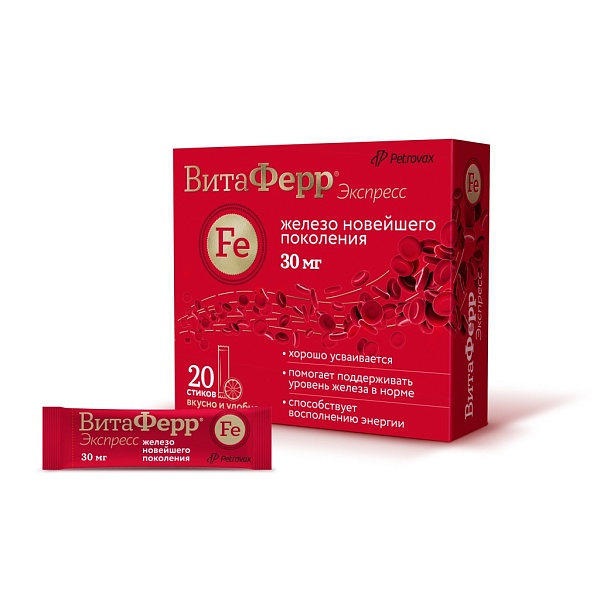 In October, Petrovax Pharm released its novelty product, the latest generation of iron, VitaFerr® Express. The product contains a liposomal form of iron that helps to maintain a normal iron level in the body with a minimal risk of adverse reactions from the gastrointestinal tract. VitaFerr® Express is available as convenient stick packs, has a pleasant fruity taste and is taken without water.
According to the WHO, 1.8 bln people around the world suffer from iron deficiency anemia and 3.6 bln have latent iron deficiency[1]. Iron is an important trace element that ensures cellular respiration by participating in the creation of hemoglobin. Its deficiency can cause fatigue, weakness, dizziness, headaches, flavor and smell reversion, brittleness and damage to nails, hair and anemia.
To maintain the daily need for iron, pregnant women should consume about 30 mg per day. Up to 75% of healthy women have shown to lose 20–30 mg of iron[2] during menstruation, so the level of this trace element should be replenished. Sometimes, it is impossible to get the required amount of iron from food.
VitaFerr® Express contains a daily dose of iron in a stick pack of 30 mg that is compliant with the WHO recommendations for the prevention of anemia in pregnant women.
Starting from November, VitaFerr® Express will be available at apteka.ru, farmland.ru and Ozon and Wildberries marketplaces.
VitaFerr® Express complements the line of iron-containing products in Petrovax portfolio. In 2020, the company introduced the VitaFerr® vitamin complex in capsules, which over the years has earned the confidence of consumers and specialists due to a number of advantages.
*THIS PRODUCT IS A DIETARY SUPPLEMENT. IT IS NOT A MEDICINE.
---
1
https://mir.ismu.baikal.ru/src/downloads/a50655d5_zhelezodefitsitnaya_anemiya_u_deteiy_gutsulyak_s.a..pdf
2
Please read the clinical medicine paper text of the academic research work in the CyberLeninka Scientific Digital Library (cyberleninka.ru) free of charge exploring the issues of how to efficiently correct the (latent) iron deficiency in pregnant women
Previous news
Children get ARVI 6 to 9 times per year while adults 2 to 4 times