 Prevenar® 13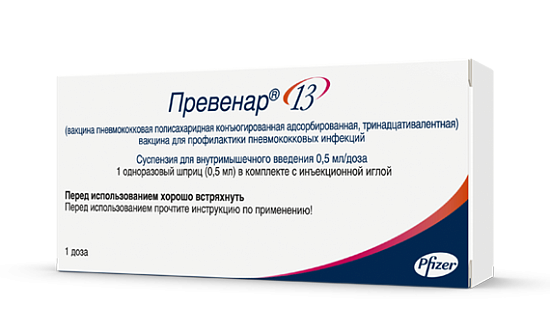 Description
Pneumococcal polysaccharide conjugate adsorbed vaccine, thirteen valent.
Application
Prevention of pneumococcal infections, including invasive (including meningitis, bacteremia, sepsis, severe pneumonia) and non-invasive (community-acquired pneumonia and otitis media) forms of the disease caused by Streptococcus pneumoniae serotypes 1, 3, 4, 5, 6A, 6B, 7F, 9V, 14, 18C, 19A, 19F and 23F.
Recommendations
From 2 months of life onwards without age restriction.
Petrovax Pharm is produced for the full production cycle of the finished dosage form in cooperation with Pfizer.
Dosage form
Pre-filled syringes.
Product form