 The New Product Omegika® in Russian Pharmacies – A Crystal-Clear Omega-3 Concentrate in Combination with Vitamin K2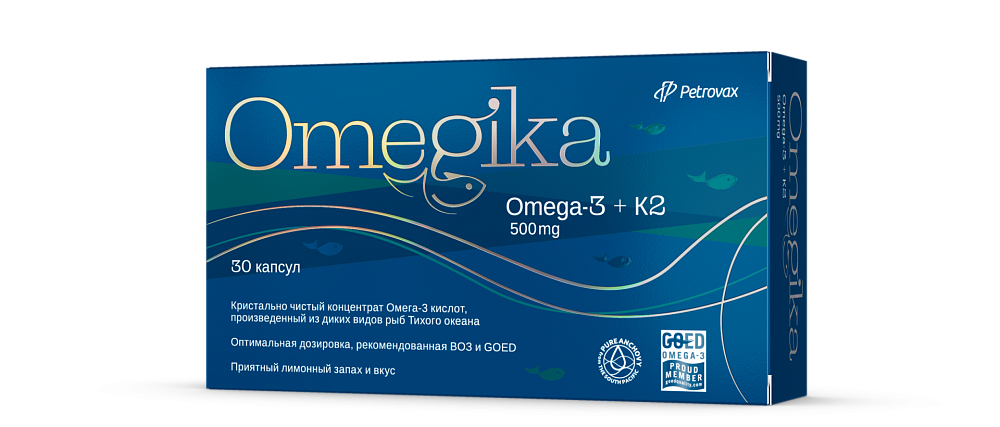 A new product is available in Russian pharmacies: Omegika
®
, a crystal-clear concentrate of Omega-3 acids in combination with vitamin K2. The novelty was released by the Russian company Petrovax Pharm, a manufacturer of original medicines and vaccines, whose portfolio also includes contract products and dietary supplements.
Omegika
®
is a special combination developed to maintain beauty and youth and support blood vessels and heart health. Vitamin K2 plays a unique role in the product's composition. It not only prevents elastin (a substance making the skin firm) from becoming calcified but also helps to reduce the risk of calcium deposition in artery walls
[1]
, that is especially important for normal blood circulation. Vitamin K2 is also essential for our body to maintain cognitive function as it reduces neuroinflammation and neurodegeneration
[2]
.
80 % of people in Russia suffer from Omega-3 deficiency
[3]
, whereas 97 % of the Western population is deficient in vitamin K2
[4]
: even with the right diet, it is difficult for a person to get the right amount of these substances from food only. The most deficient among Omega-3 polyunsaturated fatty acids (PUFAs) are eicosapentaenoic acid (EPA) and docosahexaenoic acid (DHA). The EPA, DHA, and vitamin K2 components play an indispensable role in maintaining metabolism, improving the overall health, reducing the risk and severity of many diseases
[5]
.
Due to its composition, the new Omegika
®
complex helps replenish the lack of essential nutrients in the body. The combination of Omega-3 and K2 has a positive effect on the condition of skin, hair and nails. It supports the proper functioning of the immune, reproductive, and cardiovascular systems; normalizes cholesterol levels, and promotes energy production and mental performance. The product contains vitamin K2 in the form of MK-7, which features a greater bioavailability and a longer duration of effect.
Women especially appreciate the beneficial properties of Omega-3 acids: during pregnancy, the intake of Omega-3 contributes to the proper fetus development, prevents the premature birth, and helps reduce the severity of toxicosis at the later stages.
For those who go in for sports and keep their waistline, Omega-3 helps control weight, blunt hunger, and speed up metabolism, which is especially important when losing weight.
The Omega-3 concentrate is made from fish of Pacific origin in Arica (Chile), near the world's largest wild anchovy fishing center. The state-of-the-art purification and concentration technologies allow to produce crystal-clear Omega-3
[6]
. The combination of Omega-3 and vitamin K2 is manufactured in the EU.
Omegika
®
is available in transparent capsules with a pleasant smell and taste of lemon; it can be found on the shelves of Russian pharmacies as soon as in June. The production of Omegika meets the GMP, GHP, HACCP standards and European Union directives.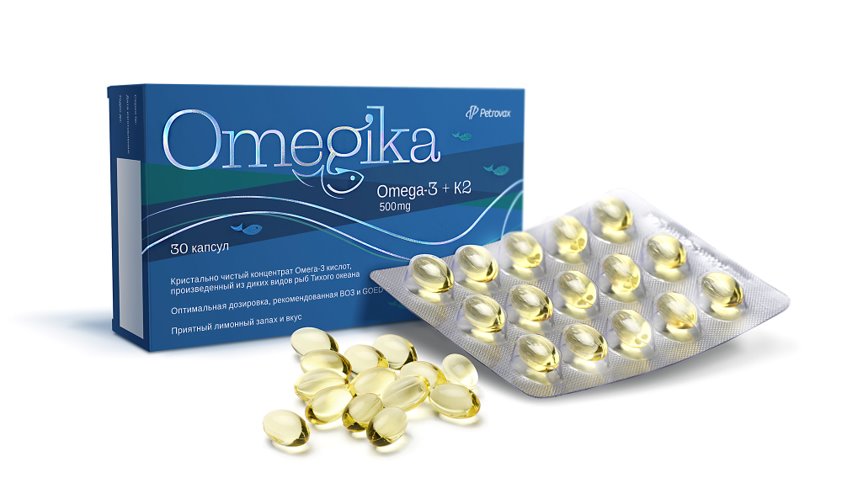 ---
1 Geleijnse JM, et al. Dietary intake of menaquinone is associated with a reduced risk of coronary heart disease: the Rotterdam Study. J Nutr. 2004; 134: 3100–3105.
2 Popescu A, German M. Vitamin K2 holds promise for Alzheimer's prevention and treatment. Nutrients. 2021 Jun 27; 13(7): 2206. doi: 10.3390/nu13072206.
3 Tyutyunnik, V.L. et al. The Omega-3 contribution to micronutrient support during pregnancy. Russian Medical Journal. Mother and Child. 2017; 25(15): 1087–1091.
4 Rennenberg RJ, van Varik BJ, Schurgers LJ, Hamulyak K, Ten Cate H, Leiner T, et al. Chronic coumarin treatment is associated with increased extracoronary arterial calcification in humans. Blood. 2010; 115: 5121-5123.
5 https://sciencejournals.ru/view-article/?j=rusfzls&y=2020&v=106&n=5&a=RusFzlS2005004Makhutova/
6 Color grade acc. to the Gardner scale < 1.5.
Previous news
Petrovax Holds Open Day for Chemistry Students of Lomonosov Moscow State University