 Grippol® Quadrivalent influenza vaccine is now approved for children from 6 months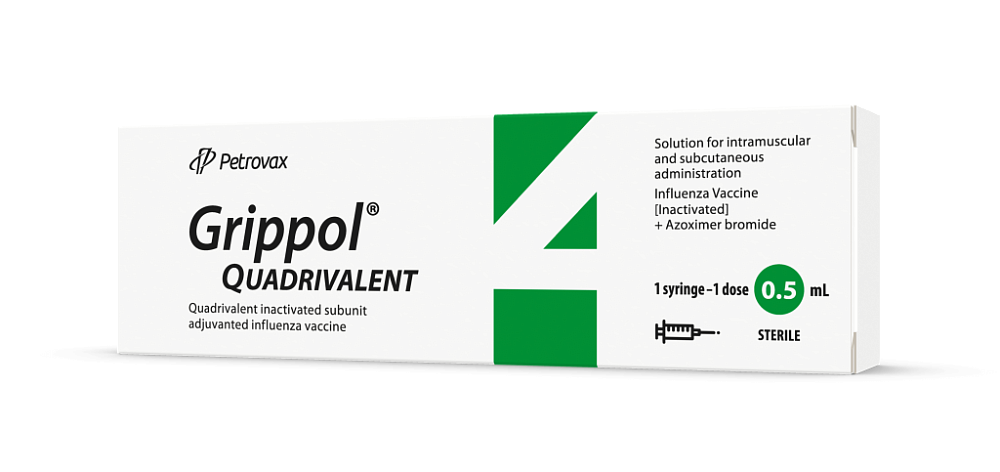 Petrovax Pharm announces the extension of therapeutic indications for the Russian quadrivalent adjuvant influenza vaccine Grippol® Quadrivalent: the vaccine is now approved for use in children from 6 months. In August 2023, the updated instruction for human use was approved by the Ministry of Health of the Russian Federation.
Grippol® Quadrivalent is the first Russian quadrivalent inactivated subunit adjuvant influenza vaccine, manufactured by Petrovax since 2018. The vaccine is currently used for children aged 6 months and older, adolescents and adults up to 60 years, including patients with chronic health conditions: those having cardiovascular, bronchopulmonary disorders, kidney diseases, diabetes, allergies, HIV infection[1][2][3].
This is a modern influenza vaccine developed using antigen-sparing technology. Due to the inclusion of azoximer bromide adjuvant in the vaccine composition, Grippol® Quadrivalent contains three times less antigens than other vaccines, which, with the same efficacy, provides a favorable tolerability and safety profile of the vaccine, confirmed by clinical trials conducted according to European standards.
Grippol® Quadrivalent was developed using the manufacturing technology employed in the production of the Grippol® family of vaccines, which are included in state immunization programs of several countries, have an extensive evidence base and long-term usage experience. Vaccines provide a pronounced humoral and cellular immune response, as scientific publications in international peer-reviewed journals, such as Frontiers in Immunology, Vaccine, etc., point out[4][5][6][7][8][9].
Grippol® Quadrivalent vaccine is available in individual syringes, is intended for intramuscular and subcutaneous administration and does not contain preservatives.
The vaccine is in demand not only in the Russian market but also in other countries. In 2023, the supply volume of Grippol® Quadrivalent vaccine for the Russian and foreign markets will exceed 1 million doses.
Since 2012, the WHO has particularly recommended the use of quadrivalent vaccines[10] as the most effective influenza prevention option[11]. In the USA and most EU countries, all influenza vaccines utilized for immunization in recent years, including in the pediatric segment, are quadrivalent[12][13][14].
Experts recommend getting vaccinated 2-3 weeks before the influenza incidence starts to rise — the optimal period for vaccination in the Russian Federation is from September to November.
---
1 https://petrovax.ru/upload/iblock/60b/Kostinov_M.P._Frontiers._GQ.pdf.
2 https://petrovax.ru/upload/iblock/30a/otsenka_reaktogennosti_i_immunogennosti_vaktsiny_grippoznoy_chetyrehvalentnoy_inaktivirovannoy_subedinichnoy.pdf.
3 https://petrovax.ru/upload/iblock/7d1/3x7as35ks0c4btai18h1j0q7uwdwz88d/Analysis_of_the_safety_and_immunogenicity_profile_of_an_azoximer_bromide_polymer_adjuvanted_subunit_influenza_vaccine_17.11.2022_version_2_.pdf.
4 Vladimir Talayev, Irina Zaichenko, Maria Svetlova. Low-dose influenza vaccine Grippol Quadrivalent with adjuvant Polyoxidonium induces a T helper-2 mediated humoral immune response and increases NK cell activity. Vaccine. 2020 Sep 29;38(42):6645-6655. doi: 10.1016/j.vaccine.2020.07.053. Epub 2020 Aug 29.
5 Kostinov MP, Akhmatova NK, Khromova EA and Kostinova AM (2020) Cytokine Profile in Human Peripheral Blood Mononuclear Leukocytes Exposed to Immunoadjuvant and Adjuvant-Free Vaccines Against Influenza. Front. Immunol. 11:1351. doi: 10.3389/fimmu.2020.01351.
6 Kostinova AM, Akhmatova NK, Latysheva EA, Dagil YA, Klimova SV, Vlasenko AE, Khromova EA, Latysheva TV and Kostinov MP (2020) Assessment of Immunogenicity of Adjuvanted Quadrivalent Inactivated Influenza Vaccine in Healthy People and Patients With Common Variable Immune Deficiency. Front. Immunol. 11:1876. doi: 10.3389/fimmu.2020.01876.
7 Kostinov, Mikhail ; Akhmatova, Nelli; Skhodova, Svetlana; Stolpnikova, Vera; Cherdantsev, Alexander; Vlasenko, Anna. (2018). The Impact of Adjuvanted and Non-Adjuvanted Influenza Vaccines on the Innate and Adaptive Immunity Effectors. 10.5772/intechopen.77006.
8 Kostinov, M.P.; Latysheva, E.A.; Kostinova, A.M.; Akhmatova, N.K.; Latysheva, T.V.; Vlasenko, A.E.; Dagil, Y.A.; Khromova, E.A.; Polichshuk, V.B. Immunogenicity and Safety of the Quadrivalent Adjuvant Subunit Influenza Vaccine in Seropositive and Seronegative Healthy People and Patients with Common Variable Immunodeficiency. Vaccines 2020, 8, 640.
9 Kompier R, Neels P, Beyer W et al. Analysis of the safety and immunogenicity profile of an azoximer bromide polymer-adjuvanted subunit influenza vaccine. [version 1; peer review: 1 approved]. F1000Research 2022, 11:259 .
10 https://www.who.int/news/item/25-02-2022-recommendations-announced-for-influenza-vaccine-composition-for-the-2022-2023-northern-hemisphere-influenza-season.
11 https://www.who.int/publications/m/item/recommended-composition-of-influenza-virus-vaccines-for-use-in-the-2013-2014-northern-hemisphere-influenza-season.
12 https://www.cdc.gov/mmwr/volumes/70/rr/rr7005a1.htm?s_cid=rr7005a1_w#influenzavaccinecompositionandavailablevaccines.
13 https://www.cdc.gov/vaccines/programs/vfc/downloads/resolutions/2021-10-18-flu-508.pdf.
14 https://www.ecdc.europa.eu/en/publications-data/availability-influenza-vaccines-country-eueea-201920-season.
Previous news
Petrovax Manufacturing Complex in the Moscow Region Celebrates Its 15th Anniversary