 New complex for maintaining joints and spine health — ARTNEO®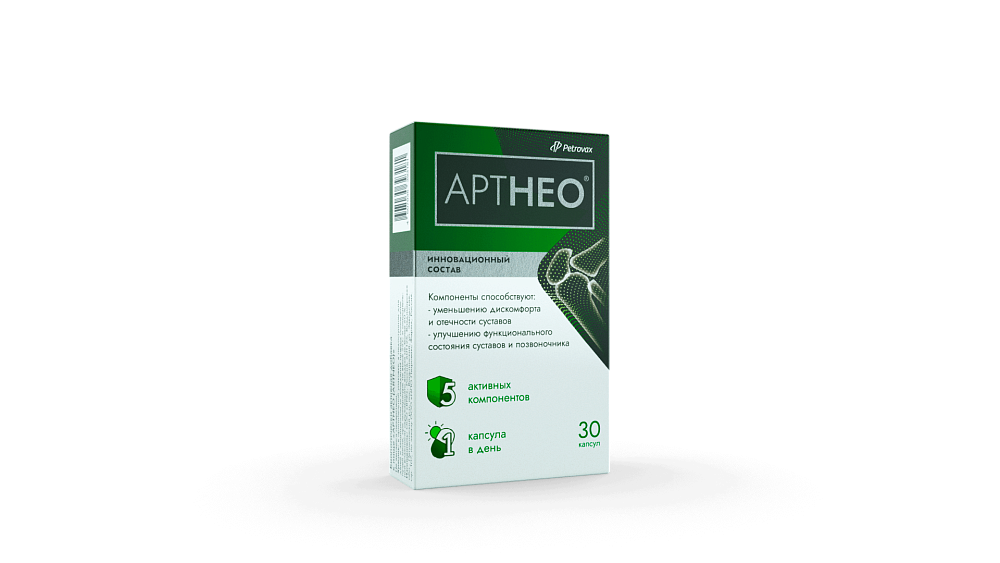 Petrovax company's portfolio has been expanded with a new product —ARTNEO®, a unique five-component complex to maintain healthy joints and spine.
The original ARTNEO® complex with a new mechanism of action can impact the cause of negative changes in the joint.
ARTNEO® contains special native (undenatured) type II collagen. When joint-associated problems occur, the immune system can perceive its own type II collagen as a foreign one and starts to attack this collagen, which leads to the joints and cartilage tissue destruction. When taking native type II collagen, the immune system retrains and starts recognizing its own type II collagen as a "friendly" one and stops the attack. Thus, normal functioning of the joint cartilage tissue is preserved.
In addition to the main component, native collagen type II, ARTNEO® contains boswellic acids, methylsulfonylmethane (MCM), vitamins C and D3. The product has a complex effect on the joints and cartilage tissue: they have a beneficial effect for their functional state, anti-inflammatory and antioxidant effects, and reduce the feeling of discomfort and stiffness.
Vitamin C, included into ARTNEO®, promotes the cartilage tissue renewal, while vitamin D3 improves absorption of calcium required for the bones structure, participates in the bone and cartilaginous tissues metabolism, which is important for recovery processes.
The product is available in a convenient capsule form. The recommended course of administration is 2 months.
ARTNEO® is a dietary supplement*, produced at the modern pharmaceutical plant in compliance with international standards.
*FOOD SUPPLEMENT. NOT A DRUG.
Previous news
American Society of Clinical Oncology ASCO releases the data on Polyoxidonium use in cancer therapy