 Petrovax wins in two categories of Russian Pharma Inspiration Awards competition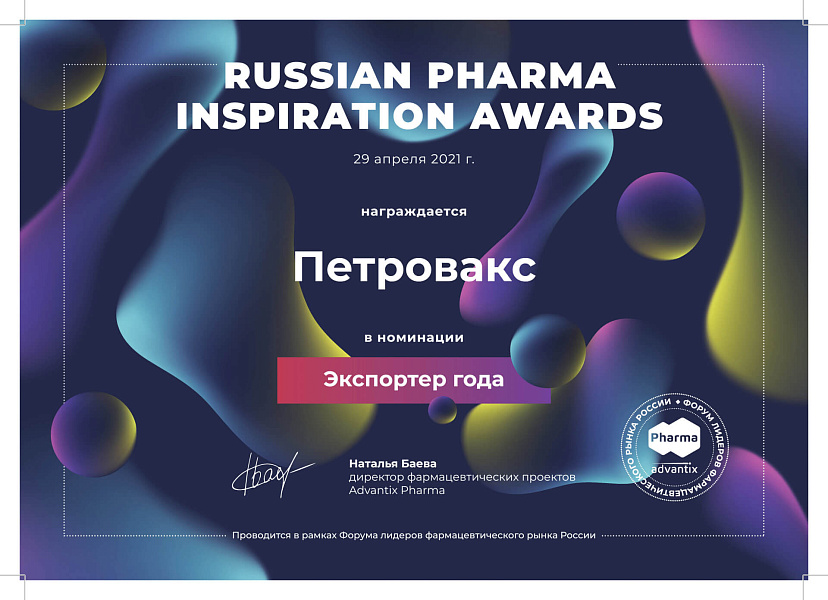 Petrovax became a winner in the categories Exporter of the Year and Partnership of the Year of Russian Pharma Inspiration Awards.
Petrovax is Russia's largest exporter of original Russian drugs, and is among the top three Russian vaccine exporters. The company supplies drugs to 12 countries, including the EAEU, the Middle East and the EU. In 2020, export of the company's drugs increased by 22% in monetary terms and amounted to 1.5 billion rubles.
Registered and exported drugs include influenza vaccine Grippol® Plus, and drugs such as Polyoxidonium® and Longidaza®. The company's most important advantages on export markets include original medicines, modern GMP-based production and investments in international research.
"We have really great achievements in terms of export, and we are actively developing international cooperation and are very proud of partnership with CanSino Biologics in terms of putting COVID vaccines on the market. We are certainly pleased that both areas were greatly appreciated at Russian Pharma Inspiration Award".
Oxana Krasnykh, Marketing and Commercial Vice President, Petrovax
In 2020, Petrovax concluded an agreement with CanSino Biologics Inc., the leader in Chinese immunobiological industry, on developing and further production of Convidecia COVID vaccine. As part of the partnership, local and international clinical trials of Convidecia (phase III) in Russia were launched, and 6,000 volunteers are participating in them. Final results of local clinical trials are expected in July 2021, and the results of international trials are to be obtained in the first six months of 2022.
Convidecia has already been approved by regulators and is being used for mass vaccination in China, Mexico, Pakistan and Hungary.
A package of documents for registration of Convidecia vaccine was submitted to the Russian Ministry of Health in November 2020. After registration in the Russian Federation, Petrovax plans to launch vaccine production at its own production facility in the Moscow Region, and exporting it.
Currently, Petrovax is implementing an investment project on expanding production, investments in which have already amounted to one billion rubles. In the first half of 2021 it is planned to commission a new production line with the maximum capacity of up to 10 million doses of vaccine per month.
Substances for vaccine production will be supplied by CanSino, and Petrovax will produce the vaccine in Russia, including all stages of the production process: vaccine formulation, bottling, packaging, quality control and export. The next stage of our cooperation with CanSino is transferring substance production to our enterprise. The company will transfer this technology to a new biotechnology plant, which is to be built in three years.
Russian Pharma Inspiration Awards competition is held by Advantix Pharma as part of the Russian Pharmaceutical Market Leaders' Forum. The competition is to award the best players on the pharmaceutical market in Russia and the best projects in 2020 in 16 categories.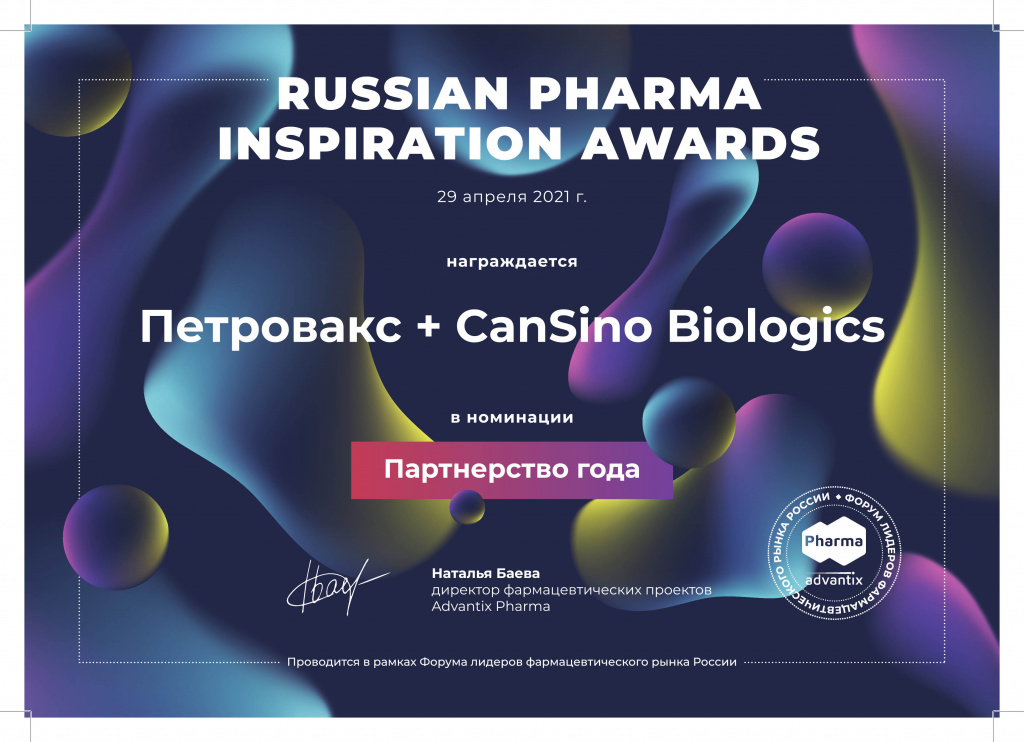 Previous news
Velson® becomes a finalist of the 21st All-Russian Platinum Ounce Competition for pharmaceutical industry professionals