 Velson® becomes a finalist of the 21st All-Russian Platinum Ounce Competition for pharmaceutical industry professionals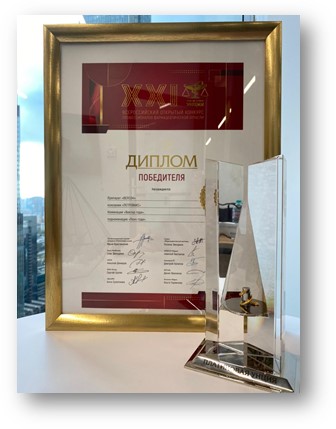 The medicine Velson® by Petrovax became a winner in the category "Launch of the Year" of the 21st All-Russian Platinum Ounce Competition for pharmaceutical industry professionals.
Velson® (INN: Melatonin) is a modern drug for normalizing sleep and biological rhythms. The medicine is produced in the EU based on international GMP standards. It has sedative effect and works as an adaptogen. Velson® does not cause addiction and is not accumulated in the organism.
Velson® came onto the market in 2019, and in 2020, according to IQVIA, it became a leader in terms of growth rate among sedatives containing melatonin. During the year, the market share amounted to 10.2%, due to which the medicine was ranked third among sedatives containing melatonin, despite the fact that the number of players on the market increased by 64%.
In late 2020, according to melatonin consumers, Velson® was the safest medicine which satisfied customers' demands to the maximum (based on AD Charisma data).
Despite the fact that the medicine has not been on the market for a long time yet, it has become the Platinum Ounce winner several times. In 2020 the medicine took the first place at Smartpharma Awards 2020 in the category "Novelty of the Year: Number One Brand in the Group of Medicines Improving Sleep quality".
"For many years Platinum Ounce has created conditions for forming the pharmaceutical market in Russia. We are very happy to become finalists of this prestigious competition and be part of this initiative".
Mikhail Tsyferov, Petrovax President
Platinum Ounce is the open competition for pharmaceutical industry professionals which has been held for 20 years. It represents the main trends, identifies leaders and supports consolidation and of pharmaceutical industry players. Platinum Ounce nominees and winners are determined by academia, established publications on the pharmaceutical market, and general directors of pharmaceutical companies.
Previous news
Whiteline: Ca+D3+K2 – a new calcium product in the portfolio of Petrovax