 Whiteline: Ca+D3+K2 – a new calcium product in the portfolio of Petrovax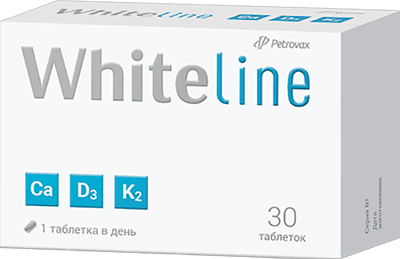 In April the product portfolio of the pharmaceutical company Petrovax was expanded with a new product – Whiteline: Ca+D3+K2.
Whiteline is a specially formulated blend of calcium and vitamins D3 and K2 to maintain calcium balance in the body. Vitamin D3 improves the absorption of calcium through the intestinal walls into the bloodstream. Vitamin K2 promotes more complete absorption and distribution of calcium in the body 1, directing calcium toward strengthening the bones and teeth, an improvement in the condition of the nails, hair and skin and helps to prevent calcium deposition in the blood vessels, kidneys or other soft tissues 2, 3, 4.
Whiteline has no taste and smell, does not contain dyes or preservatives and can be recommended to all categories of adults as well as children from three years old. The product is available in the form of tablets and is convenient for use once a day. One pack of Whiteline will be enough for a full course.
Whiteline belongs to dietary supplements (DS)* and is produced in Europe from high quality components at a GMP facility.
In April Petrovax starts to deliver the product in Russia.
Calcium (Ca) is the main building material of the bone, and also participates in many vital processes in the organism: it provides blood clotting, muscle contraction, the transmission of nerve impulses and is responsible for the beauty of hair, skin and nails.
Calcium deficiency may not manifest itself for a long time, at this time the body experiences "hidden hunger". In order to reduce the risk of deficiency conditions, it is necessary to adhere to a healthy lifestyle, give preference to healthy and balanced food, take time to physical activity and use additional sources of vitamins and minerals. The combined use of Ca with vitamins D3 and K2 helps to reduce the risk of fractures, the risk of decrease in bone density and strength, as well as calcium deposition on the walls of blood vessels<sup>5, 6, 7, 8, 9, 10.
Calcium, vitamins D3 and K2 together form the triangle of bone and vascular health. Vitamin K2 in the form of MK-7 contributes to the correct distribution of calcium, reducing the risk of calcium deposition on the walls of blood vessels. The combination of Whiteline components helps to maintain the density of bones and teeth, taking care of the condition of the skin, hair, nails and even the heart, regardless of age.
*Dietary supplement. NOT A DRUG.
---
1
compared to a combination without vitamin K
2
2
Iwamoto, J., Takeda, T., & Ichimura, S. (2000). Effect of combined administration of vitamin D3 and vitamin K2 on bone mineral density of the lumbar spine in postmenopausal women with osteoporosis. Journal of orthopaedic science, 5(6), 546-551
3
Maresz, K. (2015). Proper calcium use: vitamin K2 as a promoter of bone and cardiovascular health. Integrative Medicine: A Clinician's Journal, 14(1), 34
4
Geleijnse, J. M., Vermeer, C., Grobbee, D. E., Schurgers, L. J., Knapen, M. H., Van Der Meer, I. M., ... & Witteman, J. C. (2004). Dietary intake of menaquinone is associated with a reduced risk of coronary heart disease: the Rotterdam Study. The Journal of nutrition, 134(11), 3100-3105
5
Ershova O.B. Calcium and vitamin D: do we know everything about them / O.B. Ershova, K. Y. Belova, A.V. Nazarova // Russian medical journal. – 2011. – No. 12. – P. 719-725
6
Pestrikova T.Y. Vitamin D as a factor in improving the quality of life in women after 50 years (literature review) / T.Y. Pestrikova, E.A. Yurasova, T.P. Knyazeva // Gynecologiya. – 2019. – Vol.21, No. 6. – P. 48-50
7
Hypponen E. et al. / Intake of vitamin D and risk of type 1 diabetes: a birth-cohort study // Lancet. – 2001 – No. 358. – P. 1500-1503
8
Pittas A.G. The role of vitamin D and calcium in type 2 diabetes. A systematic review and meta-analysis // J. Clin. Endocrinol. Metab. – 2007. – Vol. 92 (6). – P. 2017–2029
9
Pittas A.G. Vitamin D and Calcium Consumption in Type 2 Diabetes in Women // Diabetes Care. – 2006. – No. 29. – P. 650-656
10
Heller H. J. The role of calcium in the prevention of kidney stones // J. Am. Coll. Nutr. – 1999. Vol. 18, No. 5. – P. 373-378
Previous news
Data published in the peer-reviewed journal shows positive results in hospitalised COVID-19 patients