 International clinical trial of Polyoxidonium® confirms its safety for COVID-19 treatment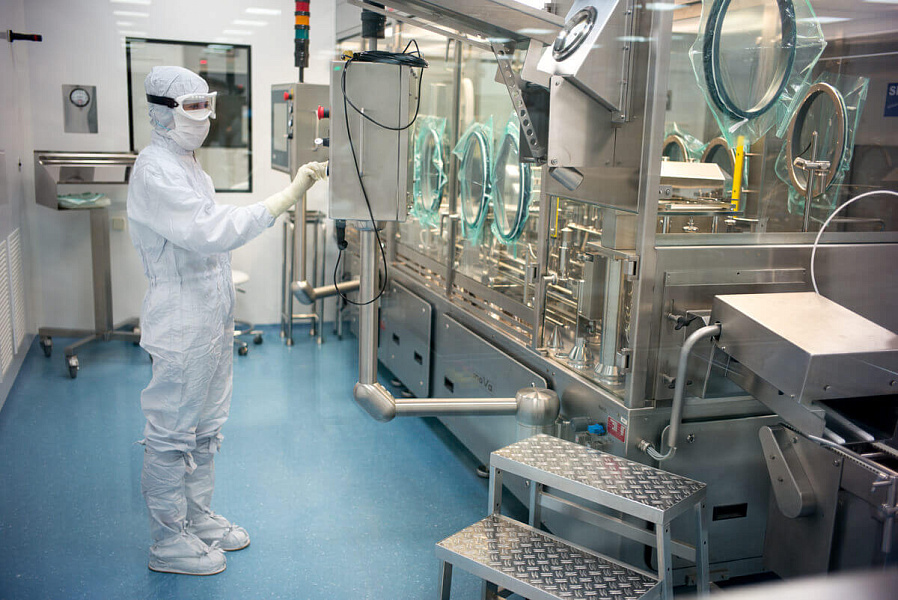 A Russian original medication called Polyoxidonium® has passed the first phase of an international clinical trial for its effectiveness and safety for COVID-19 treatment. Based on its results, an independent review committee consisting of Russian and European experts, approved the furnished data on the medication safety and recommended to go on with the trial to study the effectiveness of Polyoxidonium in coronavirus infection control.
Results of an international clinical trial launched this April, confirmed that Polyoxidonium® (INN: Azoximer bromide, manufactured by Petrovax) had a high safety profile for COVID-19 treatment. It is the first clinical trial in Russia conducted according to a protocol proposed by the World Health Organization (WHO). Previously, an American medication called Remdesivir successfully passed the trial conducted according to this protocol and became the only medication authorized by the FDA for emergency use to treat patients with COVID-19.
The first stage of Polyoxidonium clinical trial was conducted in 18 healthcare facilities in Moscow, Orenburg, Nizhny Novgorod, Yaroslavl, Barnaul, Vladimir, Saint Petersburg, Ryazan and Ivanovo. The study group of 100 patients included men and women aged 18-65. They were divided into two subgroups: one of them took Polyoxidonium® against the background of recommended therapy, while the other took a placebo. Results of the first stage demonstrated the safety of Polyoxidonium use for coronavirus infection treatment.
"Patients' safety is our priority and therefore we are very happy that the first stage of the international clinical trial confirmed the Polyoxidonium safety for COVID-19 treatment. Now we will focus on proving its effectiveness. The trial is well under way and we are going to start the patient enrollment in Slovakia, Italy, Poland, Brazil, Romania and France in the nearest future".
Mikhail Tsyferov, President, Petrovax
The total number of patients in both groups of the international multicenter clinical trial will be over 450. Moreover, in accordance with recommendations of an independent review committee (DMSB), the trial will focus on patients with severe coronavirus infection. The committee was established according to the international good clinical practice. It consists of six experts from Russia, France and Germany. The committee members shall assess the trial process, the effectiveness and safety data and give recommendations for further steps.
"We lay our hopes on the second stage of the trial. Polyoxidonium® has already proved itself as a safe medication for treatment of patients with coronavirus infection. If results are successful, we will be able to speak about a new approach to treatment of patients with COVID-19 via stimulation of endogenous immunity, which is coming from Russia. We hope that we will achieve this result".
Dr Jean-François Rossi, principal investigator
Polyoxidonium® has already been recognized by international experts in Europe: the medication was included in recommendations for COVID-19 treatment in Slovakia. Earlier on, the medication was included in temporary guidelines of the Ministry of Health of the Russian Federation for ARVI and flu treatment during the coronavirus epidemic. Polyoxidonium® became the first original medication in Russia that was approved by the Ministry of Health of the Russian Federation for the international multicenter clinical trial in treatment of patients with coronavirus. It is planned to accomplish the second stage and present the results in October-November 2020.
ADDITIONAL INFORMATION
About Polyoxidonium®
Polyoxidonium® (active pharmaceutical ingredient: Azoximer bromide) is a Russian branded medicinal product that has been widely used for 20+ years in clinical practice in Russia as well as exported to other countries. Presently, the product is authorized and is being used in 10 countries.
Polyoxidonium® is used both in adults and children older than 6 months of age for the treatment and prevention of inflammatory infections of viral, bacterial, and fungal origin at the stage of exacerbation and remission. The product's mode of actions targets the immune system. Polyoxidonium® boosts the body resistance against local and generalized viral infections.
The product's efficacy and safety have been confirmed in numerous clinical trials in a variety of therapeutic areas. The company continues extending the product's evidence base:
A total of 350+ scientific papers were published on Polyoxidonium®, including those based on independent studies 5, 6, 7, 8, 9.
Polyoxidonium® is manufactured full-cycle, including API synthesis, in accordance with GMP standards at Petrovax's state-of-the-art facility in Moscow region.
---
1
Dyakonova V. A. et al. Study of interaction between the polyoxidonium immunomodulator and the human immune system cells //International immunopharmacology. – 2004. – Т. 4. – №. 13. – С. 1615-1623
2
Alexia C., CREN M. et al. Polyoxidinium® activates cytotoxic lymphocyte responses through Dendritic Cell maturation: clinical effects in breast cancer //Frontiers in Immunology. – 2019. – Т. 10. – С. 2693
3
http://www.encepp.eu/encepp/viewResource.htm?id=19533
4
Pružinec P., Chirun N., Sveikata A. The safety profile of Polyoxidonium in daily practice: results from postauthorization safety study in Slovakia //Immunotherapy. – 2018. – Т. 10. – №. 2. – С. 131-137
5
https://www.ncbi.nlm.nih.gov/pubmed/?term=polyoxidonium
6
https://www.ncbi.nlm.nih.gov/pubmed?term=polyoxydonium&cmd=correctspelling
7
https://www.ncbi.nlm.nih.gov/pubmed/?term=Azoximer+bromide
8
https://cyberleninka.ru/search?q=%D0%BF%D0%BE%D0%BB%D0%B8%D0%BE%D0%BA%D1%81%D0%B8%D0%B4%D0%BE%D0%BD%D0%B8%D0%B9
9
https://scholar.google.ru/scholar?hl=ru&as_sdt=0%2C5&q=+азоксимера+бромид&btnG
Previous news
Petrovax congratulated Podolsk physicians on Health Worker Day