 Petrovax Pharm wins the National Import Substitution Award 'PRIORITY-2018' for Grippol® Quadrivalent vaccine
On 19 November, the Grand Hall of the Public Chamber of the Russian Federation hosted the 4th award ceremony for the winners of the National Import Substitution Award 'PRIORITY-2018'. Petrovax Pharm was the winner in the 'Priority – Pharma' category for the development and practical implementation of Russia's first 4-valent influenza vaccine Grippol® Quadrivalent.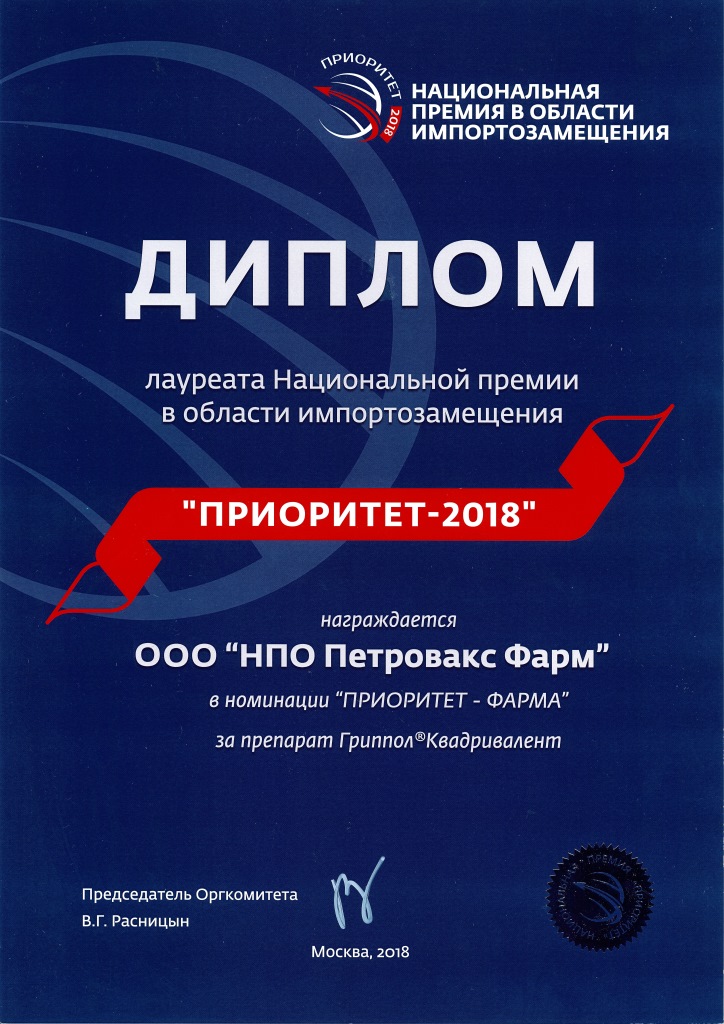 The investment project aimed at bringing to market of 4-valent influenza vaccine Grippol® Quadrivalent was implemented by Petrovax Pharm in 2018 to open up new opportunities for the national healthcare providers in influenza prevention. The project is not only important in terms of import substitution, but it also has an evident export potential.
Grippol® Quadrivalent is the most advanced flu vaccine in the world protecting against four influenza virus strains, i.e. two flu type A viruses (A/H1N1 + A/H3N2) and two type B viral cell lineages (B/Yamagata + B/Victoria). Since 2012, the WHO has recommended influenza immunization with quadrivalent vaccines, which is related to the necessity of boosting preventive efficacy of flu vaccines and, as a result, reducing morbidity rates, economic losses, and increasing the population's trust in annual immunization. Until recently, only six countries manufactured quadrivalent flu vaccines, i.e. Australia, USA, Canada, New Zealand, Germany, and France. Since 2018, Russia is an independent quadrivalent flu vaccine manufacturer as well.
Importantly, Grippol® Quadrivalent is manufactured in Russia full-cycle starting from API production to the applicable GMP regulations. The manufacturing process employs an antigen sparing technology. The vaccine is preservative-free and is supplied in single-shot syringes. According to health economics studies, in case of replacing a 3-valent vaccine for a 4-valent vaccine, the estimated number of prevented flu cases in Russia over an epidemic season will be 265.8 thousand.
We are very proud to receive this distinguished award and are happy that our import substitution efforts have been highly appreciated. This year, our company made three breakthroughs in terms of innovations. First, we have launched Grippol® Quadrivalent to the market and we believe that this 4-valent flu vaccine is set for success. Our main objective is reducing the morbidity rate among the population. Second, we have launched a new R&D center to develop pharmaceuticals 'from scratch'. Third, we have launched the third line to manufacture APIs, tablets, and suppositories. And we keep going to make new breakthroughs and innovative products that are in high demand both in Russia and worldwide. The winning product, Grippol® Quadrivalent vaccine, will be shortly filed with the WHO for prequalification that will hopefully add both to its import substitution and export potential. In the meantime, we will continue developing new products for import substitution.

Olga Orekhova, Petrovax Pharm's Vice President, R&D and Regulatory Affairs, Russia and Foreign Markets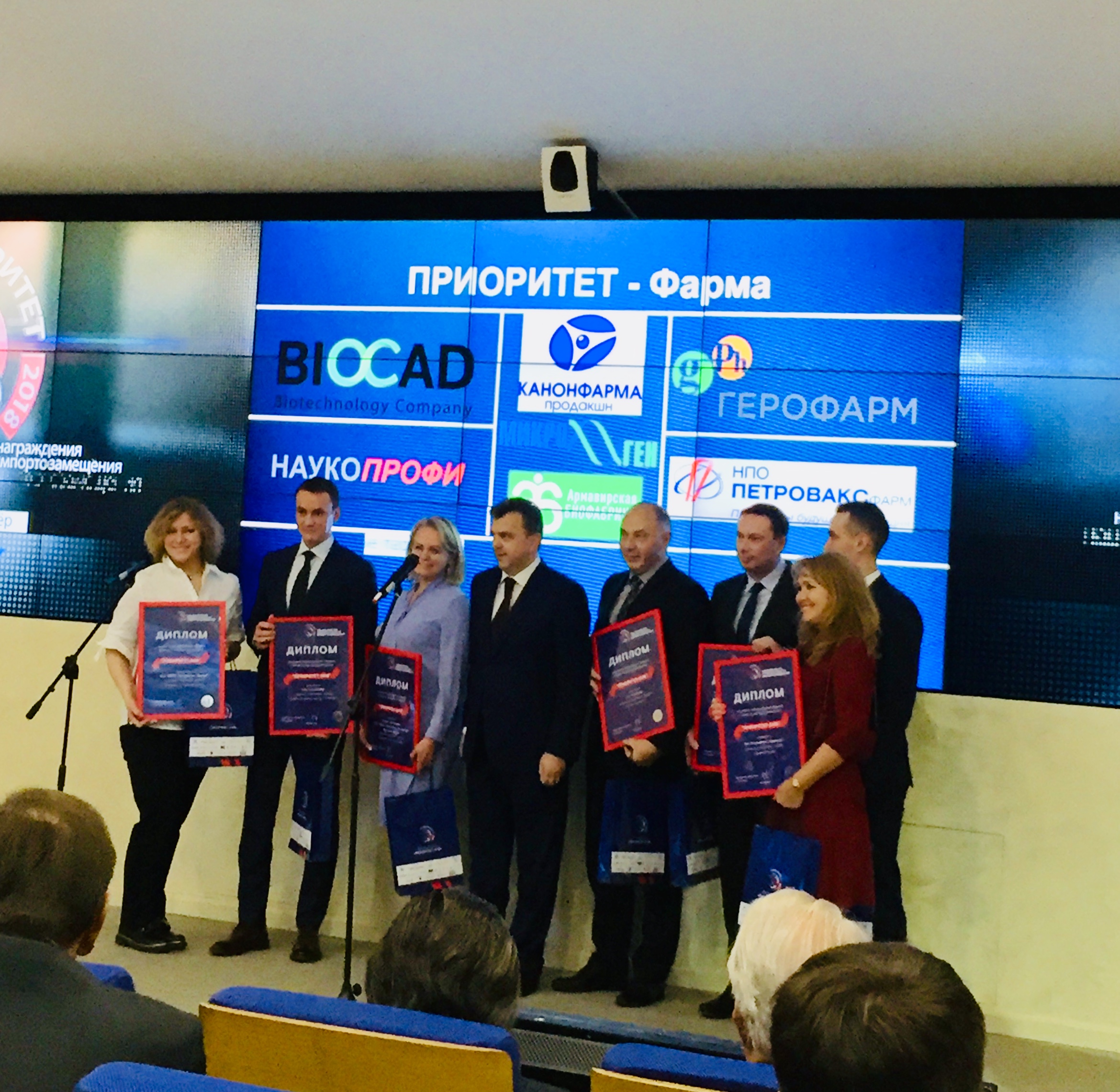 The National Award 'PRIORITY' is the most prestigious award in Russia for the best enterprises in their respective industries. The objective of this competition is to support local manufacturers, including those with export and import substitution potential that have adopted an innovative development strategy, developed new, unique technologies, and maximized their industrial production efforts over a year. The competition is supported by the Russian Ministry of Industry and Trade, Ministry of Agriculture, Ministry of Energy, Ministry of Communications and Mass Media, Federal Antimonopoly Service, Chamber of Commerce and Industry, Russian Union of Industrialists and Entrepreneurs, All-Russian Public Organization Delovaya Rossiya (Business Russia), Federal Customs Service as well as other industry-specific organizations.
Previous news
Petrovax Pharm's manufacturing complex celebrates 10th anniversary