 The Russians received better access to acute ischemic stroke therapy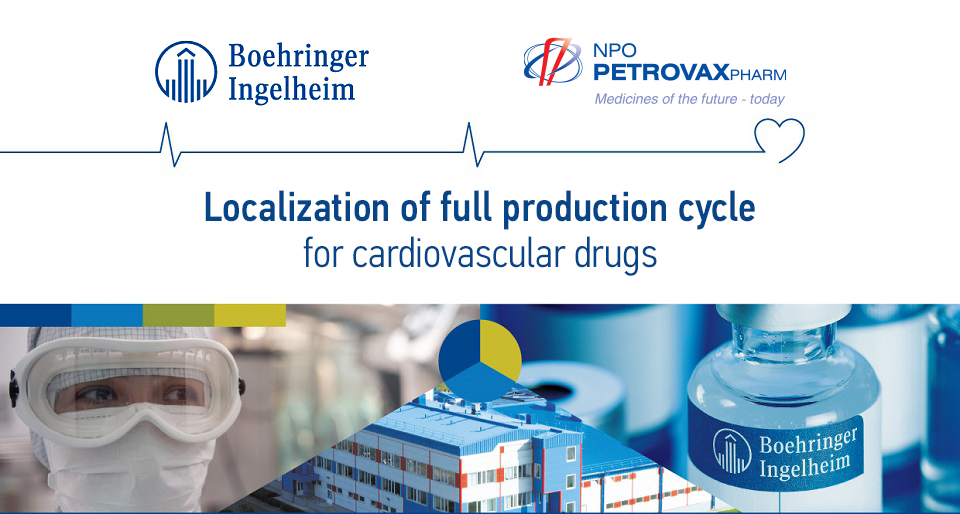 Boehringer Ingelheim and Petrovax Pharm have successfully completed another localization stage for innovative thrombolytic production in Russia. The first lots of localized Actilyse® (alteplase) for treatment of acute ischemic stroke (AIS) have been supplied to this country's medical facilities.
Localization of Actilyse® (alteplase) is a substantial part of Boehringer Ingelheim / Petrovax Pharm joint project to create a full-cycle cardiovascular drug production in Russia. The project also includes localization of Metalyse® (tenecteplase), an innovative thrombolytic therapy for myocardial infarction. Locally packaged Metalyse® was launched to the market in August 2017.
Overall in 2017-2018, more than 22,000 Metalyse® shots and more than 67,000 Actilyse® shots will be manufactured for the Russian healthcare needs.
Pavol Dobrocky, Managing Director of Boehringer Ingelheim Russia: «We can see that the needs for thrombolytic therapies in Russia have not been fully met so far. For example, in 2016, just about 12,000 stroke patients were treated with alteplase. However, the projected number of patients subject to thrombolysis (proceeding from an annual rate of 420,000 ischemic stroke cases in Russia) may range between 20,000 and 22,000 a year1. We strive to improve access to this type of treatment, and together with our partner, Petrovax Pharm, localize in Russia the production of two drugs that are the "gold standard" of thrombolytic therapy.»
Elena Arkhangelskaya, President of Petrovax Pharm: «The biotech production technology transfer project is on schedule. Another project stage completion on time have been provided for Petrovax Pharm's best practices in manufacturing high-tech pharmaceuticals. Due to this project implementation, Russian physicians will be able to use the innovative thrombolytic therapy localized in Russia in their routine practice for emergency medical aid, and patients will receive access to timely quality treatment.»
Actilyse® profile
Cardiovascular diseases are the primary mortality cause in Russia. According to the Russian Ministry of Health, in 2016, they accounted for about 47.6% of all-cause mortality. These include 450,000 stroke cases, of them about 1/3 being lethal. At that, 70% of the stroke survivors become disabled, and one in five such patients needs constant care, say National Stroke Association (NSA) experts2.
According to the Russian3 and international guidelines4, Actilyse® (alteplase) is the only thrombolytic therapy indicated for AIS patients within the first 4.5 hours from the symptoms onset. The medication is on the Vital and Essential Drug (VED) List. Besides acute ischemic stroke, the medication has also been approved for acute myocardial infarction and pulmonary embolism.
For more detail, please see Actilyse® (alteplase) Patient Information Leaflet at www.boehringer-ingelheim.ru.
---
[1] Шамалов Н.А., Стаховская Л.В., Тихонова М.А. и соавт. Развитие реперфузионной терапии при ишемическом инсульте в Российской Федерации: достижения и перспективы. Фарматека. 2017; 9:58-62;
[2] Public source information: http://www.nabi.ru/novosti/sotsialnaya-znachimost-borby-s-insultom.html
[3] Гусев Е.И. и соавт. Всероссийское общество неврологов. Москва, 2015 г. — 34 с.;
Стаховская Л.В. И соавт. М.: МЕДпресс-информ, 2017. — 196 с.;
[4] ESO Executive Committee, ESO Writing Committee. Cerebrovasc Dis. 2008;25(5):457-507;
Jauch EC, et al. Stroke. 2013 Mar;44(3):870-947.
Previous news
Petrovax Pharm pick up RUIE award "For the Dynamic Development of Business"