 Work to localise production of cardiovascular medications in Russia is active and ongoing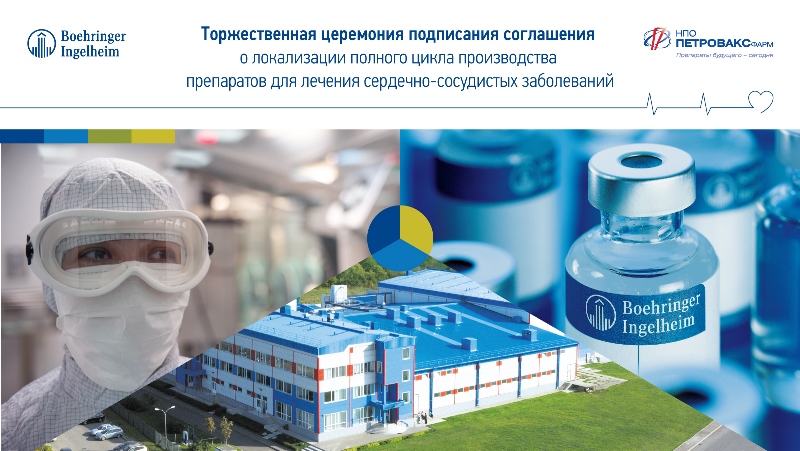 NPO Petrovax Pharm and Boehringer Ingelheim continue their work to localise full-cycle production of biotechnological medicines to treat infarctions and cerebrovascular accidents.
The project aiming to produce innovative thrombolytic medicines in Russia was launched in June, when Russia's leading market player, NPO Petrovax Pharm, and the international pharma major Boehringer Ingelheim signed a joint cooperation agreement in the Chamber of Commerce and Industry of the Russian Federation during a meeting discussing the development of high-tech medical care for the prevention of cardiovascular diseases in Russia. The agreement effected as part of Pharma 2020, Russia's federal targeted programme for pharmaceutical industry development, will be another step towards making life essential medicines more affordable and help to save lives of tens of thousands of patients.
The current stage of the project focuses on the transfer and roll-out of a secondary packaging production technology. In September and October, Petrovax Pharm filed a request for the state-run Research Centre for Assessment of Medical Products (part of the Ministry of Health) to conduct a pharmaceutical review and include Petrovax Pharm in the marketing authorisation as a secondary packaging manufacturer.
As part of the close cooperation, Petrovax Pharm specialists visited their partners' production site in Germany to enhance their understanding of control methods. Besides, Petrovax Pharm has ordered equipment for all project phases. The equipment to be used for the upgrade of the filling line at the Russian company's production facility is expected to be delivered in January.
2016 and 2017 will see the transfer and roll-out of a secondary packaging production technology and production of the first commercial batches. By the end of 2019, the companies intend to complete the transfer of technologies and to launch full-cycle production of innovative thrombolytic medicines at Petrovax Pharm's production facility in the Moscow Region.
For Boehringer Ingelheim, this is the first localisation project of its kind: Petrovax Pharm will be the world's second site to manufacture Boehringer Ingelheim's innovative thrombolytic medications. The facility's capacity will be enough to fully meet the need for these drugs in Russia. 
Previous news
NPO Petrovax Pharm pioneers Russian GMP certificate to manufacture veterinary medicines