 Petrovax Group launches a new manufacturing facility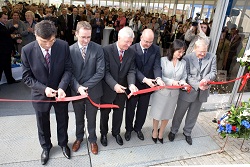 On September 9, 2008, Petrovax Group launched a new manufacturing facility for innovative local Grippol plus flu vaccine. The facility is unrivalled in Russia. Petrovax Group has completed a three-year construction project to obtain a pharmaceutical production and manufacturing complex for influenza vaccines and other immunobiological products in Podolsk district of Moscow region. The new facility was constructed in full compliance with the international GMP standards.
The facility's rated capacity is 80 m doses of various immunobiologicals a year; if necessary, their output may be quickly upscaled. The facility will also manufacture improved Grippol vaccine analogues, such as Grippol plus and Grippol TS, as well as a number of other pharmaceutical products.
On the ribbon-cutting day, the first Grippol plus production line was launched.
This product is unique because of being the only local vaccine that is preservative-free and is manufactured in disposable single-dose syringes.
It is worth noting that Petrovax Group targets not only domestic but also foreign market. In near future, the facility products will be exported to CIS countries, Slovakia, and Croatia.
The facility launch in Moscow region is a vivid example of the implementation of Petrovax Group's innovative strategy based on the development, production, and practical application of original pharmaceuticals driven by fundamental research.
Previous news
Petrovax Group joins ARPM