 Longidaza®, a new option for treating pulmonary fibrosis, at the world academic community's spotlight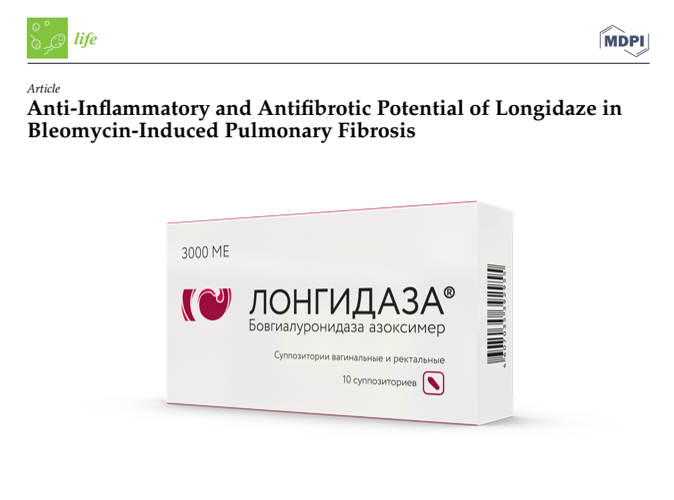 Life (MDPI Publishing House), an international scientific journal, has published the results of a pre-clinical study regarding the original drug Longidaza® used to treat idiopathic pulmonary fibrosis (IPF)[1]. The data open up new possibilities for the Russian molecule bovhyaluronidase azoximer in the treatment of this life-threatening disease.
The study was conducted on animal models of pulmonary fibrosis to evaluate the biological mechanisms of fibrogenesis in IPF and the effectiveness of therapy. The antifibrotic and anti-inflammatory activity of Longidaza®[2] was studied using histological, hematological tests and enzyme-linked immunosorbent assay.
The medicinal product was administered to small rodents intranasally and intramuscularly. Used for the first time in an experiment in animals, the intranasal administration of the drug made it possible to evaluate the effectiveness of its inhalation form.
During the study it was shown that the use of Longidaza® reduced pulmonary fibrosis, as evidenced by the improved histologic pattern of the lungs, reduced connective tissue buildup and lowered profibrotic factors in the pulmonary tissue.
In addition, Longidaza® suppressed the inflammatory response in pulmonary fibrosis and reduced the IL-6, TNF-α (indicators of immune status in inflammatory, oncological, autoimmune diseases) levels, as well as the level of hyaluronic acid and the infiltration of inflammatory cells in the pulmonary tissue.
The greatest therapeutic efficacy was observed when injecting the drug with the strengths of 120 and 1200 units/kg: the test results showed better figures vs. the reference comparator.
The authors of the publication, including a leading Russian pulmonologist, believe that Longidaza® is a promising drug in the treatment of IPF, which, following clinical trials, can be used to help patients with pulmonary fibrosis in improving their life quality and expectancy in the future.
Reference information about IPF
Idiopathic pulmonary fibrosis (IPF) is one of the most common forms of interstitial pulmonary disease, characterized by progressive respiratory failure, weakness and shortness of breath. People over 50 years of age, smokers, personnel working in hazardous industries, and patients with burdened heredity are those who most often suffer from the disease.
IPF represents 20-30% of all cases
[3]
[4]
of interstitial pulmonary diseases (IPD). Average life expectancy of a patient with IPF is 3-5 years
[5]
[6]
.
About Longidaza®
Longidaza® (INN: Bovhyaluronidase azoximer) is an original enzymatic drug for complex therapy of diseases accompanied by connective tissue hyperplasia [3]. It established itself in complex therapy and monotherapy of different types of diseases accompanied by organ fibrosis (pneumofibrosis, prostate fibrosis in prostatitis, etc.). It is used in gynecology, urology, pulmonology and other fields of medicine[7]. In 2021-2022, during the Dissolve study, the drug showed positive results in patients with residual changes in the lungs after previous COVID-19 infection.
---
1
https://www.mdpi.com/2075-1729/13/9/1932/pdf
2
https://www.mdpi.com/2075-1729/13/9/1932#B25-life-13-01932
3
Bowman, W.S.; Echt, G.A.; Oldham, J.M. Biomarkers in Progressive Fibrosing Interstitial Lung Disease: Optimizing Diagnosis, Prognosis, and Treatment Response. Front. Med. 2021, 10, 680997.
4
Abdelhady, R.; Cavalu, S.; Saber, S.; Elmowafy, R.; Morsy, N.E.; Ibrahim, S.; Abdeldaiem, M.S.I.; Samy, M.; Abd-Eldayem, M.A.; Shata, A.; et al. Mirtazapine, an atypical antidepressant, mitigates lung fibrosis by suppressing NLPR3 inflammasome and fibrosis-related mediators in endotracheal bleomycin rat model. Biomed. Pharmacother. 2023, 161, 114553.
5
Shukla, A.K.; Misra, S. An overview of post COVID sequelae. J. Basic. Clin. Physiol. Pharmacol. 2022, 33, 715–726.
6
Zohny, M.H.; Cavalu, S.; Youssef, M.E.; Kaddah, M.M.Y.; Mourad AA, E.; Gaafar AG, A.; El-Ahwany, E.; Amin, N.A.; Arakeep, H.M.; Shata, A.; et al. Coomassie brilliant blue G-250 dye attenuates bleomycin-induced lung fibrosis by regulating the NF-κB and NLRP3 crosstalk: A novel approach for filling an unmet medical need. Biomed. Pharmacother. 2022, 148, 112723.
7
Kulchavenya, E.V.; Shevchenko, S.Y.; Cherednichenko, A.G.; Breusov, A.A.; Vinitskiy, A.A. New opportunities of using gialuronidase in chronic prostatitis. Urologiia 2020, 3, 56–62.
Previous news
Reproductive health is the key to a couple's well-being