 32% of people over 65 die of pneumococcal pneumonia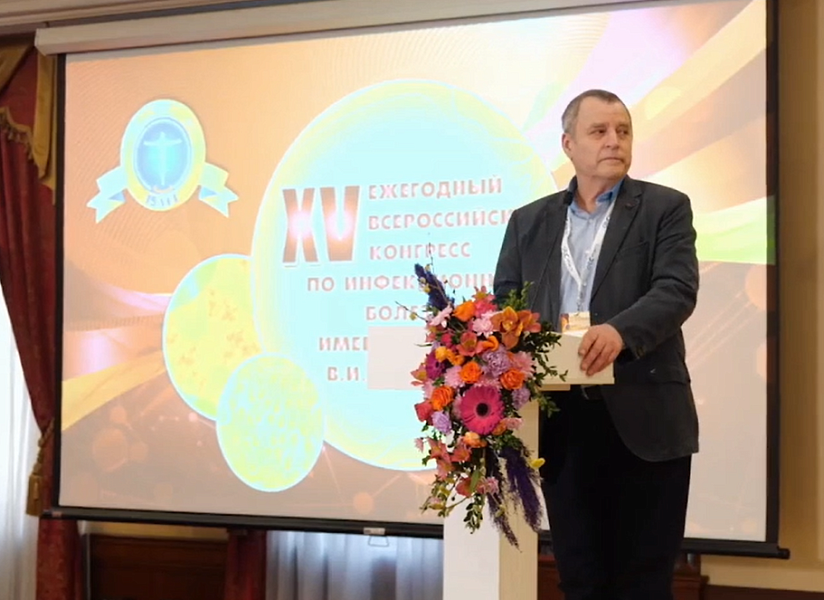 Pneumococcal disease causes a number of serious conditions that can be very harmful to the body. This was discussed by leading experts at the 15th Annual Academician V.I. Pokrovsky All-Russian Congress on Infectious Diseases in Moscow. Healthcare professionals talked about the importance of vaccination against influenza and pneumococcal for immunity protection.
Pneumococcal disease (PD) and the ways of protection from it were the most important topics discussed at the congress. The aging immune system is one of the factors leading to a severe PD course. According to experts, the rate of mortality due to pneumococcal pneumonia among persons over 65 years of age is 32%[1][2].
Healthcare professionals note that aging results in changes in body's immune cells, a decrease in the rate of B cell generation and a lower T cell count. This increases the sensitivity to pneumococcal disease. It is an important factor because the elderly people are the main risk group in this case.
In addition to pneumonia, pneumococcus can cause bacterial meningitis, otitis media and sepsis. Pneumococcal pneumonia is not only hazardous for elderly people but also for other patients in the risk groups. Congress participants noted that previous community-acquired pneumococcal pneumonia resulted in death of every 10th patient with COPD and every 5th patient with chronic cardiovascular disease within 30 days. The risk of death due to pneumococcal pneumonia in the elderly is 3-5 times higher[1].
Vaccination remains the most effective method of protection against viral infections. It, particularly, activates the natural defense mechanisms for the development of specific immunity to pneumococcal disease. In Russia, a localized production of a conjugated pneumococcal 13-valent PD vaccine is organized. Prevenar® 13 vaccine is manufactured by Petrovax, utilizing a full-cycle FDF[3]production technique, in cooperation with Pfizer.
The experts provided data from a Russian study[4] in which preventive vaccination with Prevenar® 13 was administered to patients with isolated COPD and with a combination of COPD and diabetes mellitus. They found an almost tenfold reduction in the incidence of pneumonia after vaccination in patients with COPD and diabetes mellitus. In addition, the course of diabetes mellitus itself has improved.
Conjugated vaccines have a more complex mechanism of action as memory T cells are generated and a long-term T-dependent immune response is maintained. The vaccination effect is long-lasting in this case reported the congress speakers using Prevenar® 13 as an example.
In addition, experts recommend vaccinating against influenza and pneumococcal disease simultaneously as this enhances the T cell immune response.
During the congress, healthcare professionals spoke about the benefits of adjuvanted influenza vaccines that enhance specific immune responses to the antigens[5][6]. The inclusion of adjuvants in the composition of vaccines is aimed at strengthening, accelerating and prolonging the immune response to vaccine antigens, Mikhail Kostinov, Honored Scientist of the Russian Federation, Dr. habil. med., Professor, Corresponding Member of Russian Academy of Sciences, cited adjuvant influenza vaccines of Grippol® group (Grippol® Plus, Grippol® Quadrivalent) with a long history of use and an extensive scientific evidential basis as an example.
Azoximer bromide adjuvant in Grippol® vaccines allows a 3-fold reduction of antigens, ensuring a pronounced and long-lasting immune response to vaccination[7][8].
According to the speaker, adjuvants help vaccines to perform better. They enhance humoral and cellular immunity so that such vaccines can be used in people with various health conditions. The adjuvant maintains the immunity duration, and a lower antigen content results in a high safety profile of the vaccines.
«Influenza inactivated subunit vaccine containing an adjuvant azoximer bromide has the ability to regulate the T regulatory cells that create balance in the immune response. Due to the adjusted adjuvant concentration, there is a reduction of negative post-vaccination reactions. Domestic Grippol group vaccine has immunogenic properties and a high safety profile. It can activate nonspecific protective factors, which can help combat any infectious disease,» concluded Mikhail Kostinov.
---
1 Т. V. Barakhovskaya, A. V. Shcherbakova. Pneumonias: A manual for physicians - Irkutsk: 2017. – 80 pages.
2 Nikolay Ivanovich Briko, Vladimir Andreyevich Korshunov, Kirill Sergeyevich Lomonosov PNEUMOCOCCAL DISEASE IN THE RUSSIAN FEDERATION: STATE OF THE ISSUE // Annals of the Russian Academy of Medical Sciences (RAMS). 2021. No. 1.
3 FDF stands for finished dosage form
4 G. L. IGNATOVA, E. V. BLINOVA, V. N. ANTONOV, I. V. GREBNEVA. ANALYSIS OF THE EFFECT OF PNEUMOCOCCAL INFECTION VACCINE IN PATIENTS WITH CHRONIC OBSTRUCTIVE PULMONARY DISEASE COMBINED WITH DIABETES MELLITUS. THERAPEUTIC ARCHIVES. 2019; 91 (11): https://pubmed.ncbi.nlm.nih.gov/32598610/
5Guideline on adjuvants in vaccines for human use//EMEA/CHMP/VEG/134716/2004. London, 20 January 2005.
6 T. A. Poznyak, O. R. Knyazeva, A. E. Goncharov. ADJUVANTS AS EFFECTIVE MEANS OF DELIVERY OF ANTIGENS FOR NEW GENERATION VACCINES//Medical news. 2021. No. 4 (319).
7https://grippol.ru/?utm_source=petrovax&utm_medium=website/
8 Kompier R, Neels P, Beyer W et al. Analysis of the safety and immunogenicity profile of an azoximer bromide polymer-adjuvanted subunit influenza vaccine. F1000Research 2022, 11:259 https://doi.org/10.12688/f1000research.75869.2/
Previous news
Respiratory diseases are on the rise again