 Import substitution and investment in pharmaceutical manufacturing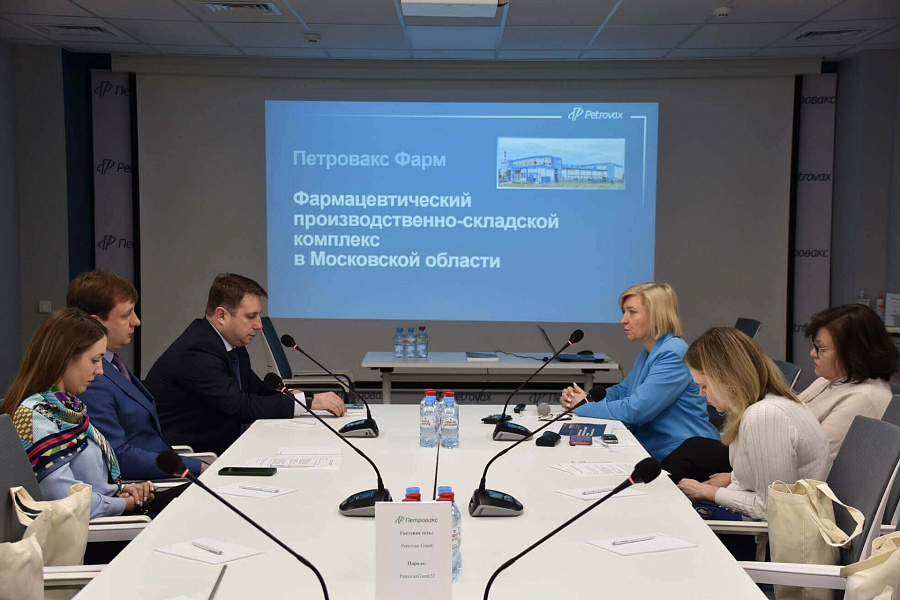 Dmitry Zharikov, head of the Podolsk urban district, visited Petrovax manufacturing complex on April 12. During the meeting, the parties discussed investment projects to expand pharmaceutical production and import substitution aimed at providing Russian healthcare with modern medicinal products.
The Petrovax manufacturing complex located in Podolsk near Moscow is one of the leading full-cycle biopharmaceutical enterprises in Russia. For 15 years, it has been manufacturing millions of medicines doses each year to provide patients with life-saving medicinal products and vaccines.
Petrovax actively cooperates with the Moscow region government. The partnership resulted in Cooperation Agreement signed in summer 2021 in order to improve the investment climate and economy of the region.
Petrovax's investment strategy involves expansion of pharmaceutical production, covering several stages at once: commissioning of the 4th manufacturing line for injectable dosage forms, as well as construction of a biotech experimental-industrial complex at the existing site aimed at substances and genetically engineered medicines including those for orphan diseases treatment.
The final stage of the investment project will be a biotech complex construction for full-cycle medicinal product and vaccine manufacturing, among other things, used in the treatment of cancer and autoimmune diseases. The investment project is aimed at import substitution and provision of Russian patients with modern medicinal products for severe disabling diseases treatment. The total investment in the project will amount to nearly 10 billion rubles during 5 years.
Some of these stages have already been implemented: in 2021, installation and validation of technological equipment on the 4th manufacturing line was accomplished; in 2022, company obtained a license of the Ministry of Industry and Trade; in the near future, manufacturing of immunobiological preparations is to be launched on the line. In 2022–2023, it is planned to complete construction of a biotech experimental-industrial complex. As a result, about 100 new workplaces for highly qualified specialists will be established.
During the meeting, Dmitry Zharikov, head of Podolsk, expressed confidence that the new Petrovax investment project implementation would have a positive impact on the development of the region's economic and social potential.
"We have long-term, strong relations with Petrovax. We are always ready to cooperate, provide all kinds of support and, if necessary, give a hand,"
– said head of the Podolsk urban district
The company produces and exports not only vaccines, but also original medicines, such as Polyoxidonium® and Longidaza®, which have demonstrated convincing results in the prevention, treatment of Coronavirus infection and COVID-19 rehabilitation.
Petrovax already has many years of experience in import substitution. The company has implemented projects to localize high-tech international medicines (including full-cycle technology transfer), such as pneumococcal vaccine Prevenar®13 and the thrombolytic drugs Actilyse® and Metalyse®, the use of which plays a crucial role in reducing, first of all, child mortality from pneumococcal infections and in reducing death rate from strokes and myocardial infarction. The company partners with world pharmaceutical companies - Pfizer, Abbott, Boehringer Ingelheim.
"Our company has been operating in Podolsk region for many years. Our manufacturing volumes have increased by 70% during the pandemic. We continue to raise our capacities in order to ramp up the output of modern high-quality medicines. We appreciate the partnership with Podolsk authorities, which has grown into a full-fledged teamwork, and we always receive support from our regional authorities continuing to make further development plans together,"
– said Larisa Dukhina, Director of the Petrovax manufacturing complex.
Petrovax continues manufacturing and investment even during the pandemic years having launched a new manufacturing building, due to which pharmaceutical substance manufacturing increased by 2.5 times, suppositories - by 4 times, and tablets - by 7 times. All company's portfolio medicines are manufactured in accordance with GMP standards confirming Petrovax's competitive advantages as one of the largest manufacturers and employers in Russia. During the pandemic, the company hired more than 200 new employees of various specialties.
For reference
The NPO Petrovax Pharm, LLC manufacturing complex for substances and finished dosage forms was put into operation by Petrovax in Podolsk, Moscow region, in 2008. The manufacturing process fully complies with Russian and international GMP standards. The enterprise capacities provide for the annual manufacturing of 160 million doses - from the substance synthesis to finished medicines.
Petrovax is one of the largest taxpayers and a stable employer in the Moscow region. In the end of 2021, the company's revenue amounted to 13.5 billion rubles, taxes and contributions amount paid was 1 billion and 182 million rubles and 331 million rubles to the Moscow region budget.
The company actively participates in social projects in the Moscow region providing targeted support to public and medical organizations and charitable foundations. During the pandemic, Petrovax provides assistance to Podolsk hospitals. The company sent more than 3000 packages of the Polyoxidonium for the preventive protection of medical personnel in hospitals and "red zones". The company participated in the opening of a new COVID hospital in the City Hospital of Podolsk and helped equip workplaces for staff with information equipment.
Previous news
Post-COVID syndrome: treat, not ignore