 President of Petrovax spoke at Partners Dialogue on COVID-19 Vaccine Cooperation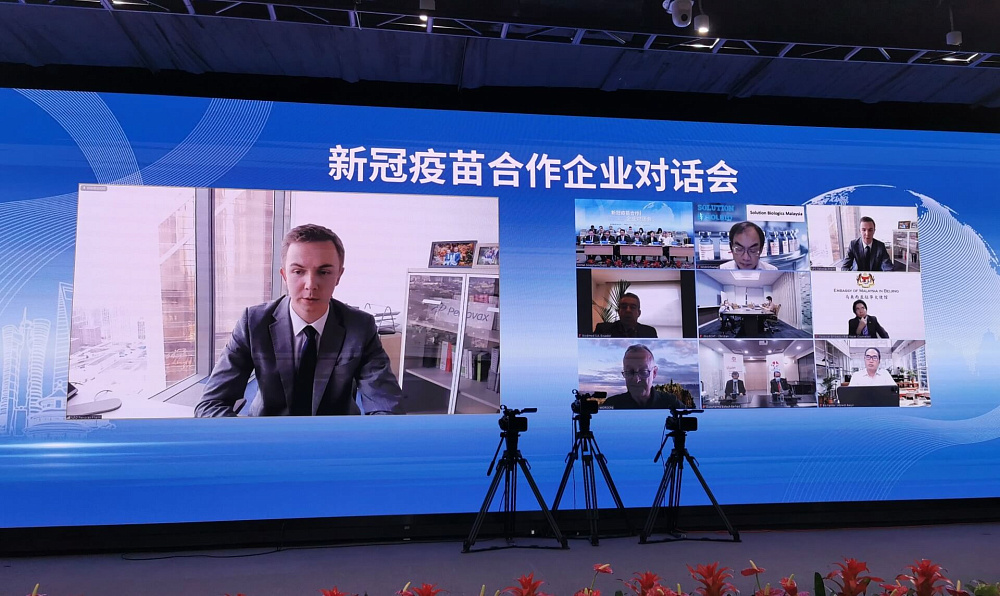 On July 29, President of Petrovax Mikhail Tsyferov spoke at the Partners Dialogue on COVID-19 Vaccine Cooperation conference, organized by the Ministry of Foreign Affairs of China. The event was held as a dialogue between major Chinese producers of vaccine against COVID-19 (Sinopharm, Sinovac Biotech, CanSino Biologics Inc and Anhui Zhifei Longcom Biopharmaceutical) and their international partners.
More than 20 leading international companies took part in the online discussion. Main topics included strengthening international cooperation in the production and distribution of vaccines, as well as the localization of Chinese vaccines against COVID-19 in other countries.
"Russia is one of the early and key countries to take part in the III phase of the international clinical trial of the Convidecia vaccine, developed by the leading Chinese immunobiological company CanSino. We are working with our Russian partner Petrovax to bring the vaccine to both local and international markets. Petrovax has comprehensive experience in development and production of vaccines, and it was a pleasure for us to initiate this cooperation."
Pierre A. Morgon, Senior Vice President for international business at CanSino Biologics Inc.
Mikhail Tsyferov spoke in more detail about the Russian-Chinese project.
"Our partnership with CanSino Biologics Inc started at the beginning of 2020 and took us many sleepless nights and multiple hard deadlines. We have conducted two III phase clinical trials (CT) for the vaccine in Russia, and today Convidecia remains the only foreign vaccine with such a status in our country. Russian experts were able to confirm the high safety and efficiency of the vaccine. At this stage, we are looking forward to its official registration in Russia."
With the support of the Russian company, Convidecia has also been registered in Kyrgyzstan, and is undergoing registration in Kazakhstan.
"We are ready to start delivering vaccine to these countries in the fall."
President of Petrovax
The fourth production line was recently built in order to guarantee the production capacity of 10 million doses per month.

The Head of Petrovax outlined the importance of the partnership that began during such a difficult time:
"I am sure that we will continue the close cooperation between our companies after the pandemic too. I would like to express my sincere gratitude to the Chinese government for fostering this global environment of openness and collaboration, without which the project would have been impossible. I would also like to thank our colleagues from CanSino, whom I have never met personally, yet I feel that we have become very close partners, almost like friends."
Foreign partners have also expressed a significant interest in further development of cooperation with the leading Chinese vaccine producers in the fields such as technology transfer, e.g. for creating joint manufacturing enterprises abroad.
Previous news
Russian medicine to be supplied to Slovakia under special approval for the prevention of COVID-19