 Petrovax's VitaFerr for iron deficiency prevention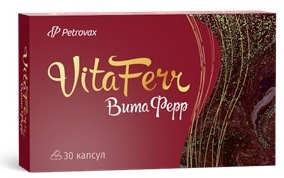 In December Petrovax launched a new complex product for women's iron deficiency prevention – VitaFerr
®
.
The product contains the "new" generation iron – iron bisglycinate, which increases the effectiveness of the prevention of iron deficiency and reduces the likelihood of side effects. The product also contains vitamins C, B12, and B6 essential for red blood cell formation and normal functioning of the nervous system as well as calcium L-methylfolate, a folic acid derivative that, unlike folic acid, does not require any additional transformations in a body prior to action.
The product's complex composition restores iron balance, improves general well-being and performance. Compared to traditional iron forms, iron in VitaFerr is associated with low risks of gastrointestinal side effects. VitaFerr is indicated for all women of reproductive age as well as for pregnant and lactating women.
Iron deficiency is a relevant issue for 30 % of the world population. According to the WHO, at least 20 % of the Russians suffer from iron deficiency. Iron is one of the essential microelements, which is necessary for the normal functioning of our immune system. Humans need 1-2 mg of iron daily, but our body absorbs only 10 % of iron from food. Iron deficiency high-risk groups include women of reproductive age, especially pregnant and lactating women, patients with gastrointestinal disorders, people recovering from injuries and surgeries, eating poorly or sticking to a strict diet.
VitaFerr is a dietary supplement* manufactured in compliance with GMP standards. The capsule form is very convenient for single daily intake, and the pack is intended exactly for a course of use. VitaFerr is the best choice for iron deficiency prevention and is a must-have product for people taking care about their health and beauty. The product is already available across Russia.
* NOT A MEDICINAL PRODUCT
Previous news
Happy New Year!