 PETROVAX INTRODUCES URONEXT® – A NEW PRODUCT AGAINST CYSTITIS ON THE RUSSIAN MARKET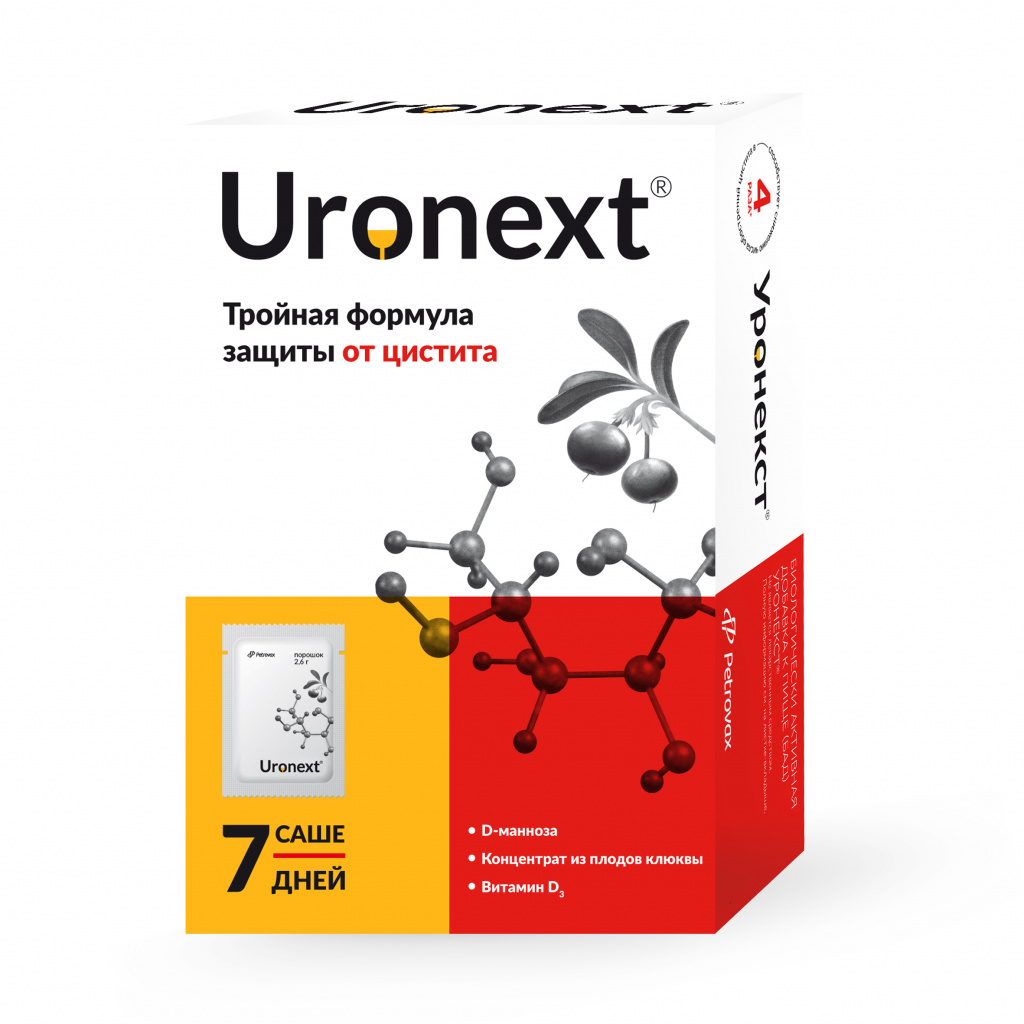 Petrovax introduces Uronext® – a complete solution to fight cystitis. The product will be available throughout Russia in October.
Uronext® is an original European product for protection against urinary tract infections. The formula is unique for the Russian market and has a proven effectiveness in prevention and treatment of cystitis, backed by science. According to research data, the active components of the Uronext® can help reduce the frequency of cystitis reoccurrence by 4 times 1, 2.
Urinary tract infections (UTIs) are one of the most common bacterial infections. Approximately 150 million cases of UTIs are recorded around the world during each year3. Cystitis is the most common bladder infection. 25% of the adult population 3, 4 face this problem somewhere during their lifetime and up to 50% of acute cystitis cases turn into chronic diseases. In 90% of cases the cause is the bacteria Escherichia coli.
Uronext® has a complex effect on pathogens due to three active ingredients combined into an optimal dosage: D-mannose, Cran-Max (patented North American cranberry extract with increased efficiency) and the vitamin D3. D-mannose and Cran-Max have a direct effect on the E. coli bacteria, the main cause of cystitis, preventing it from attaching to the walls of the bladder. In addition, Cran-Max has anti-inflammatory and diuretic effects, and vitamin D3 is essential for maintaining the immune system. These three active ingredients provide a diverse and comprehensive protection against cystitis in 7 days of usage.
Uronext® belongs to biologically active additives and is produced in the European Union (Slovenia) in accordance with international standards. It comes in sachets, making it convenient for the consumer (easily soluble in water) as well as increasing bioavailability and effectiveness.
All Uronext® components have undergone a number of international studies and have been proven to be effective. The product does not contain GMOs and has a high safety profile: it is suitable for use by adults, pregnant and breastfeeding women, as well as people suffering from diabetes.
More detailed information about the Uronext® can be found on the website https://uronext.ru/
---
1
Kranjčec B., Papeš D., Altarac S. D-mannose powder for prophylaxis of recurrent urinary tract infections in women: a randomized clinical trial //World journal of urology. – 2014. – Т. 32. – №. 1. – С. 79-84
2
Bohbot J. M. Results of a randomized, double-blind study on the prevention of recurrent cystitis with GynDelta® //The Gynaecologist's and Obstetrician's Journal. – 2007
3
V.V. Rafalsky, E.M. Moiseeva. Epidemiology of uncomplicated community-acquired urinary tract infections in the Russian Federation
4
Clinical guidelines. Bacterial cystitis in adults. ICD N30.0/N30.1/N30.2/N30.8
Previous news
Mikhail Tsyferov spoke about the challenges, opportunities and prospects faced by the pharmaceutical industry during the pandemic at the RussiaTALK Online 2020 Forum