 Petrovax Pharm to launch a new Imoferaza® cream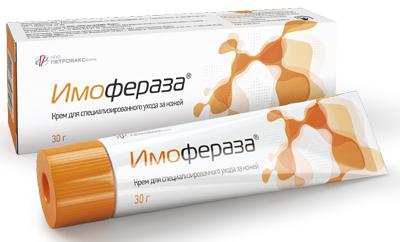 Petrovax Pharm is delighted to announce the launch of its innovative Imoferaza® cream designed specifically to treat problem and scarred areas of skin resulting from injuries, burns, acne (post-acne), surgery and cosmetic treatment. The cream can also be applied to reduce the likelihood of unaesthetic scars on damaged skin.
From now on, healthcare professionals can rely on a high quality external use product with unique properties combining exceptional efficiency and excellent medical usability – an advantage previously unavailable to them. The cream contains a revolutionary high performance hyaluronidase based molecule that targets connective tissues forming the core of the scar. Imoferaza® is very convenient to use, with no skin preparation required. The cream is only applied twice a day; it has no odour, absorbs quickly and leaves no stains on clothes.
«Imoferaza® cream will be welcomed by both healthcare professionals and their patients, as they have a pressing need for a quality product to treat post-injury and post-surgery scars and other skin damages. Petrovax Pharm is set to closely cooperate with dermatology and aesthetic medicine experts and raise patients' awareness about the product's exceptional properties,» said Elena Arkhangelskaya, President of NPO Petrovax Pharm.
Overview of the external scar treatment market
Estimated at over 750,000 packs (by volume) and over RUB 405 m (by value), the external scar treatment market has only a handful of players, their 2010–2015 CAGR exceeding 13% in rouble terms and 3% in volume terms (number of packs). The market embraces both pharmaceuticals and medical and beauty products. These are widely used by consumers to treat post-injury and post-surgery scars and other skin damages. The Goskomstat (Russian State Statistics Committee) annually reports around three million injuries and four million surgeries. Approximately 15% of patients are left with visible or unaesthetic scars. Hence, over one million people in need of scar treatment products.
For more details on the advanced Imoferaza® product please visit our website at www.imoferaza.ru. You can also contact us by hotline: +7 495 410 8345
Previous news
Petrovax fully completes the government procurement programme under the 2015 National Immunisation Schedule