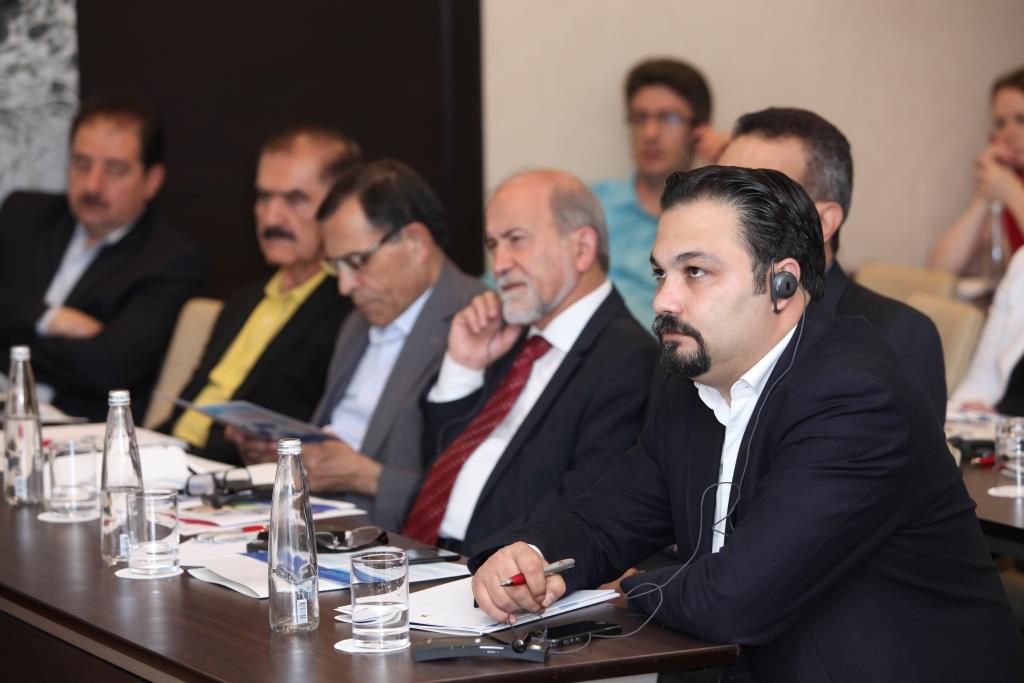 In late July, more than 30 Iranian physicians and health experts arrived in Moscow for sharing best vaccination practices and expertise.
The two-day agenda included a scientific and practical conference and a visit of the manufacturing facility of Petrovax Pharm, a leading immunobiological manufacturer that initiated and hosted the event.
Petrovax Pharm President Elena Arkhangelskyaya: «When inviting Iranian experts to visit Russia and organizing this event, we primarily wanted our colleagues to form an adequate opinion of the Russian pharma image. The Russian pharmaceutical industry is currently at a high international level, and complies with applicable GMP standards. Today, Russia is a fast-emerging country fr om the pharmaceutical manufacturing and high-tech perspectives. We are open for cooperation, and are always ready to share our experience and expertise with foreign partners."
Vaccination awareness program
Leading Iranian and Russian vaccination experts, namely, immunologists, pediatricians, infectious disease specialists, epidemiologists, and cardiologists, took part in the conference on the world epidemiological situation as well as influenza and ARVI prevention. The experts noted that infectious diseases posed a serious healthcare problem in emerging countries on the world scale, and that it was very important to prevent their propagation, especially in most vulnerable population groups.
«Vaccination is one of major medical breakthroughs over the past two centuries, which made it possible for the mankind to manage various diseases. It is one of effective tools in the demographic policy, and population mortality reduction», said Lyudmilla Luss, MD, Head of Polyclinic Department, FSBI State Scientific Center Institute of Immunology.
Pediatrician Susanna Kharit, MD, Chief Independent Children Vaccination Expert of St. Petersburg Health Committee, Head of Immunization Department of Research Institute of Children's Infections, spoke on efficacy and safety of using the polymer-subunit influenza vaccine in children and adolescents. «The postmarketing clinical observation of Grippol® plus vaccine in children aged 3–17 proved that the vaccine was low reactogenic, and highly safe, which provided for recommending it to be widely used in children's practice. Grippol® plus vaccine has good tolerability and safety parameters in children, including those with a positive history of allergies," stressed the speaker.
Special consideration was given to the importance of flu vaccination of pregnant women. Pediatrician Alexander Cherdantsev, MD, allergy and immunology expert, senior lecturer of Pediatrics Chair of Ulyanovsk Medical University, enlarged on the experience of using immunoadjuvant vaccines in obstetrics and perinatology for flu vaccination of pregnant women.
In favor of state- of-the-art manufacturing technologies
The visit of Iranian medical experts was not a coincidence. Six months before, at the Petrovax facility, a trilateral agreement was signed for localization of Grippol® plus vaccine manufacture in Iran. This project is unique for Iran as the country has not had local production facilities for adjuvanted flu vaccines before. Currently, Petrovax Pharm is the only Russian pharmaceutical company that localizes its products in Iran.
Commenting on the project implementation, Elena Arkhangelskyaya noted: «Presently, pursuant to our plan, the Iranian party is constructing a manufacturing facility for the flu vaccine localization; project approval, equipment ordering and testing is in full swing. Further, the technology transfer stage is planned. Together with St. Petersburg Research Institute of Vaccines and Sera of the Russian Federal Medical and Biological Agency, we will share best practices with our Iranian colleagues. July 29 is a remarkable date in our calendar. On this day, the second annual shipment of the flu vaccine to Tehran took place. We are very proud of this."
The Iranian experts remarked on this event significance for the partnership between the two countries, which would provide for raising awareness for immunization and advanced flu vaccines as well as for the development of manufacturing technologies of the two countries.
Alireza Nategian, pediatrician and infectious disease expert (Iran): «It was very interesting to visit Petrovax Pharm manufacturing complex wh ere we, physicians, could for the first time see a vaccine manufacturing process. We are impressed by the fact that the Russian influenza vaccine Grippol® plus is preservative-free , and has a low antigen content. We hope that, thanks to this vaccine's efficacy and high safety profile, we will be able to persuade parents to have themselves and their children vaccinated against influenza on an annual basis, and overall expand vaccination coverage of the population."
Javid Amir, pharmacist (Iran): «It was a very convincing trip: visiting Russia, and getting acquainted with Petrovax's technologies and products. This product [vaccine] is very important both for Russia and Iran, and its manufacturing processes are truly high-tech . Such technologies are not to be found everywhere. What is more, not everywhere their development level is as high as here. It is very good that they are available both in Russia and Iran, and that our countries collaborate within the framework of such projects."