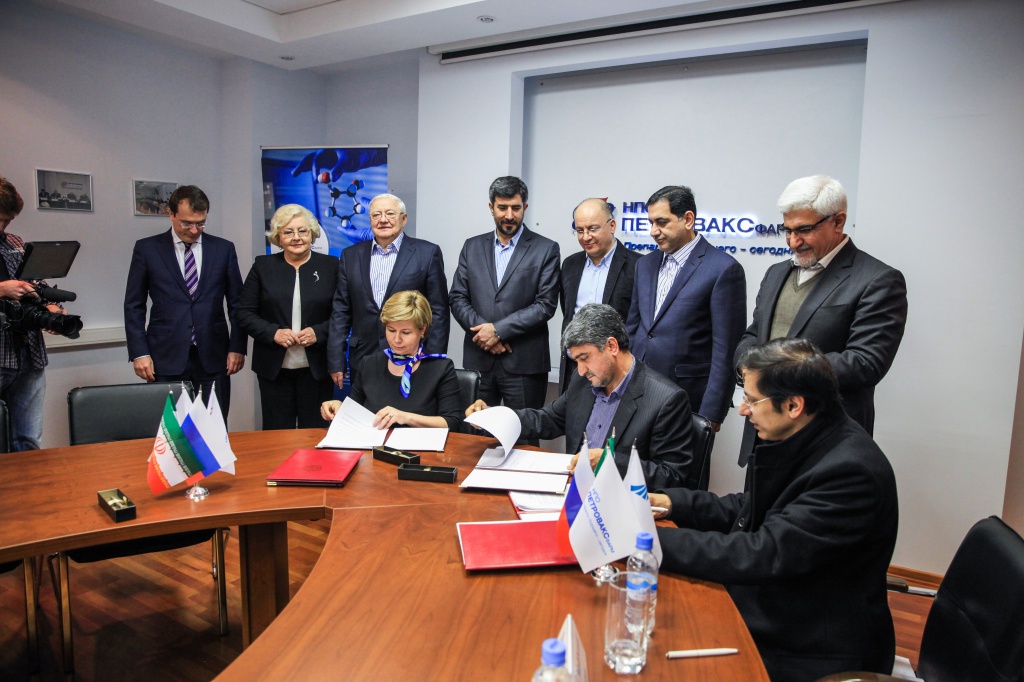 19 February 2016, Moscow
On 19 February 2016 NPO Petrovax Pharm, Sobhan Recombinant Protein and Arvin LTD signed a trilateral strategic cooperation agreement to localise the production of the Russian Grippol® Plus flu vaccine in Iran. The signing took place at Petrovax Pharm's production facility and was attended by representatives of Deputy Ministry and Head of the Food and Drug Organization of the Islamic Republic of Iran. The project is partnered with Saint Petersburg Vaccine and Serum Research Institute of Russia's FMBA, a manufacturer and supplier of vaccine antigens.
As part of the cooperation, Petrovax Pharm will transfer its full-cycle production technology for the Russian Grippol® Plus flu vaccine to Sobhan Recombinant Protein (Iran) and train the Iranian company's staff to replicate all production stages. The project is unique for Iran because the country has no local production of adjuvant flu vaccines. Currently, Petrovax Pharm is the only Russian pharmaceutical company working to localise manufacturing of its innovative medicines in Iran.
The 2015 shipments of the flu vaccine to Iran came as the first step towards building an effective long-term partnership between the companies. Medical professionals acknowledge success of the vaccine application and recommend it for further, wider use.
The project supported by Iran's Ministry of Health and Medical Education is scheduled for completion in 2.5 years. The companies will start it out in 2016. The agreement also envisages a transfer of technologies for production of a quadrivalent flu subunit vaccine developed recently by Petrovax Phram, and another two large-scale projects. One of them is a transfer by Sobhan Recombinant Protein to Petrovax Pharm of its full-cycle production technology for a hepatitis B vaccine, including antigens, and the other a transfer of Sobhan Recombinant Protein's production technology for several biosimilars to be used at Petrovax Pharm's facilities.
Elena Arkhangelskaya, President of NPO Petrovax Pharm: "The expansion of exports to the Middle East and promotion of international partnership in Iran come as a milestone not only for our company, but also for the entire Russian pharmaceutical industry. The company sees Iran as a key growth market with a significant export potential since it is a country with advanced pharmaceutical production capacities. We are planning to strengthen our position in that market based on a long-term growth strategy developed jointly with Sobhan Recombinant Protein and Arvin LTD Company. We are ready to exchange and share the unique know-how and competences with the Iranian companies, both in Iran, where the production of our medicines will be localised, and in Russia, with international projects to be launched at Petrovax Pharm's facilities. We take this opportunity to express gratitude our partners for their trust and cooperation thanks to which the locally produced high performance flu vaccine (long since recognised by healthcare professionals and patients in Russia) will be soon available for consumers in Iran."
Arkady Nekrasov, Chairman of NPO Petrovax Pharm Board of Directors: "The cooperation between Russia and Iran is gaining momentum, enlisting support at the government level. We are proud to contribute to the expanding export potential of the two nations. The Grippol vaccines came as a breakthrough for the Russian immunobiology. Over the 20 years of practical application, they have proved to be highly efficient and safe for the purpose of mass immunisation. Currently Grippol Plus is regarded as the best flu vaccine both in Russia and internationally. I am happy to see more countries starting to use our unique development every year, with the map of our exports now expanded to cover Iran."
Alexey Bashkirov, Deputy CEO for Investments and Member of Management Board at Interros: "As investors, we appreciate the agreement with the Islamic Republic of Iran. It is a high achievement of Petrovax Pharm not only in the Russian market but also globally. Expanding its footprint is a strategic priority for the Company. I am positive that our prospective cooperation with Iran will help boost the quality of healthcare in both countries."
Dr. Rassoul Dinarvand, Deputy Minister and Head of the Food and Drug Organization of Iran:
Our project to localise production of the flu vaccine developed by the Russian-based Petrovax Pharm at our facility in Iran is very important to the national healthcare system. This project opens up new possibilities for providing the Iranian people with immunobiological medicines they need to prevent dangerous diseases. We always welcome and support initiatives aimed at development of the immunobiotechnological industry in our country and we do our best to create the conditions for their implementation and evolution."
Dr. Seyed Omid Ranaei Siadat, chair of Sobhan Recombinant Protein Board:
"Sobhan Recombinant Protein works in line with Iran's government strategy aimed to produce socially important medicines and develop high-tech production. The Russian pharmaceutical market is rapidly growing and local manufacturers can offer high-quality and high-performance medicines to their foreign partners. I am confident that our strategic partnership will boost research and production projects in the pharmaceutical industries of the two countries, which will have a positive impact on our people's health and quality of life."
For reference
About Grippol® Plus
Grippol® Plus is a Russian latest-generation adjuvanted subunit preservative-free inactivated influenza vaccine used for flu prevention in adults and children, including babies starting from 6 months of age, pregnant women, and people with chronic somatic diseases. The composition of the vaccine for use in the upcoming influenza season is changed annually as per WHO recommendations. It is made at a modern production facility in compliance with Russian and international GMP standards. Due to its strong efficacy, high quality and safety profile, the Grippol Plus vaccine is exported to a number of CIS countries. For the first time in its history, Petrovax Pharm exported over 3.5 m doses of Grippol® Plus to Belarus in 2015, becoming the only supplier under the Republic's National Immunisation Schedule to provide the vaccine for all social groups. On top of that, the Company shipped the flu vaccine to Kyrgyzstan, Kazakhstan and Iran under the immunisation programme. In addition, 2015 saw the Belarusian Ministry of Health and Belmedpreparaty sign a 10-year strategic agreement to localise production of the flu vaccine in the Republic of Belarus. Apart from the Republic of Belarus, Kazakhstan and Kyrgyzstan, the medicine has been registered for use in Iran, Georgia, Moldova and Ukraine by now. Its registration in Uzbekistan is expected soon.
About NPO Petrovax Pharm
NPO Petrovax Pharm is a Russian pharmaceutical company that develops and produces innovative medicines and vaccines. The main activities of the Company include production of influenza and pneumococcal vaccines for the National Immunisation Schedule, and development and production of immunobiological medicines. The Company operates in the Moscow Region in full compliance with international standards of GMP EU and ISO 9001 and employs over 600 people. NPO Petrovax Pharm's majority shareholder is a company of Vladimir Potanin, owner and founder of Interros Group.
Expansion of its export potential and international footprint are among the Company's strategic objectives. Petrovax Pharm has a significant competitive edge in global markets boasting an original and high-demand portfolio of innovative products and state-of-the-art GMP-compliant production facilities. The Company invests heavily in the development and launch of new medicines. Currently Petrovax Pharm exports its products to CIS and EU countries, e.g. Slovakia, Ukraine, Belarus, Kazakhstan, Kyrgyzstan, Armenia, Uzbekistan, Azerbaijan, Georgia, Moldavia, and Iran. The Company also intends to tap into the EU and South American markets.