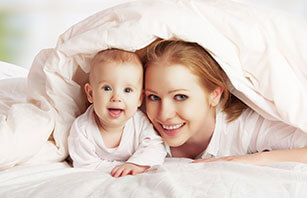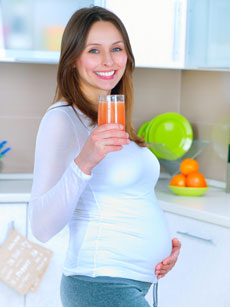 Since the flu pathogen has been discovered, scientists have been continuously searching for an improved formula capable to efficiently control variable vaccine viruses. Annual vaccination is considered the most reliable way of flu prevention. According to the WHO, annual vaccination of the risk groups reduces flu morbidity by 60 % overall[1].
According to the Russian Federal Service for Surveillance on Consumer Rights Protection and Human Wellbeing, in 1996–2017, the percentage of the citizens receiving annual flu vaccination in Russia increased from 0.2 % to 46.5 %; as a result, the flu morbidity in this country decreased 85.5-fold[2].
Presently, within the framework of the National Immunization Schedule, immunization covers children aged 6 months and older; secondary school students, grades 1—11; university and vocational school students; adults of specific professions and jobs (medical, educational, transportation, and utilities workers, etc.); and adults aged 60+. Since 2014, vaccination has been additionally indicated in pregnant women, persons subject to military service, and chronic disease patients.
Flu vaccine evolution
From monovalent to quadrivalent vaccines
As new knowledge on influenza and new technologies emerged, to boost vaccine efficacy, manufacturers gradually moved from monovalent vaccines protecting against one virus strain to trivalent and quadrivalent vaccines. Until recently, trivalent vaccines were authorized in Russia that contained three flu virus strains, i.e. two flu type A viruses (H1N1 and H3N2) and one type B viral cell line.
Since 2012, the WHO has recommended using quadrivalent vaccines for influenza prevention due to the growing prevalence of the second influenza type B viruses. This recommendation relates to preventive efficacy pressure on flu vaccination and consequently a reduction in the morbidity rate, economic losses, and enhancement of patient trust in annual vaccination. Such vaccines are in the national immunization schedules of 10 countries. In 2018, Russia launched the first quadrivalent flu vaccine.
From live virus to inactivated vaccines
Another evolutionary path for vaccines was a transfer from live to inactivated vaccines. State-of-the-art vaccines do not contain live (albeit attenuated) flu viruses capable of inducing mild influenza, but they do contain highly purified surface antigens of the virus. With an inactivated vaccine, antigens (proteins) only are administered into the human body for the immune system to study them and adequately respond in case it encounters infectious viruses. Such vaccines cannot induce a disease and are characterized by high immunogenicity and improved tolerability.
Safe efficacy
A serious issue is still a search for safe and efficacious adjuvants, i.e. substances capable of boosting the immune response with a lower antigen concentration per vaccine shot. Thus, one of the key principles in the development of any pharmaceutical product is identifying a minimum efficacious API dose. Such approach provides for reducing the likelihood of site responses. It is also applicable for manufacturing vaccines, with their composition and quality being regulated by the European Pharmacopoeia (EP) or relevant national pharmacopoeias. According to the EP, the stated amount of haemagglutinin antigen for each strain present in the vaccine is 15 µg per dose, unless clinical evidence supports the use of a different amount[3]. It was this principle that made the foundation for the Russian adjuvanted flu vaccines of Grippol® family.
World standards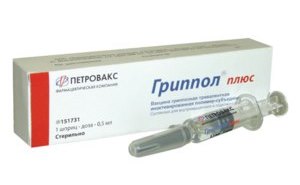 Among the Russian flu vaccines, there is a broad line of inactivated vaccines manufactured by Petrovax. These vaccines stand out due to the presence of an azoximer bromide immunoadjuvant (Polyoxidonium) that improves their immunogenic properties at a reduced antigen dose.
Russia has long-standing (more than 20 years) successful practices of using local flu vaccines Grippol® and Grippol® plus. The vaccine production process including the adjuvant has withstood the tests of time and numerous studies. Over that period, the vaccines were used to immunize about 400 million people. A high efficacy of adjuvanted vaccines has been demonstrated, in particular, in post-approval epidemiology studies in Moscow Region[4], St. Petersburg[5][6] in more than 11,000 children and more than 6,900 adults. Besides, Grippol® plus has proved to be superior to foreign vaccines in specific post-approval studies[7],[8]. Due to its efficacy, quality, and high safety profile, Grippol® plus has been widely used in the Russian market, has a flawless 8-year application experience under the Russian National Immunization Schedule in children and pregnant women, and has been exported to the EAEU and Iran. Recently, the efficacy and safety of flu vaccines containing a reduced antigen dose and adjuvant Polyoxidonium has also been supported by a report drafted by FluConsult, an independent European bioscience consultancy company.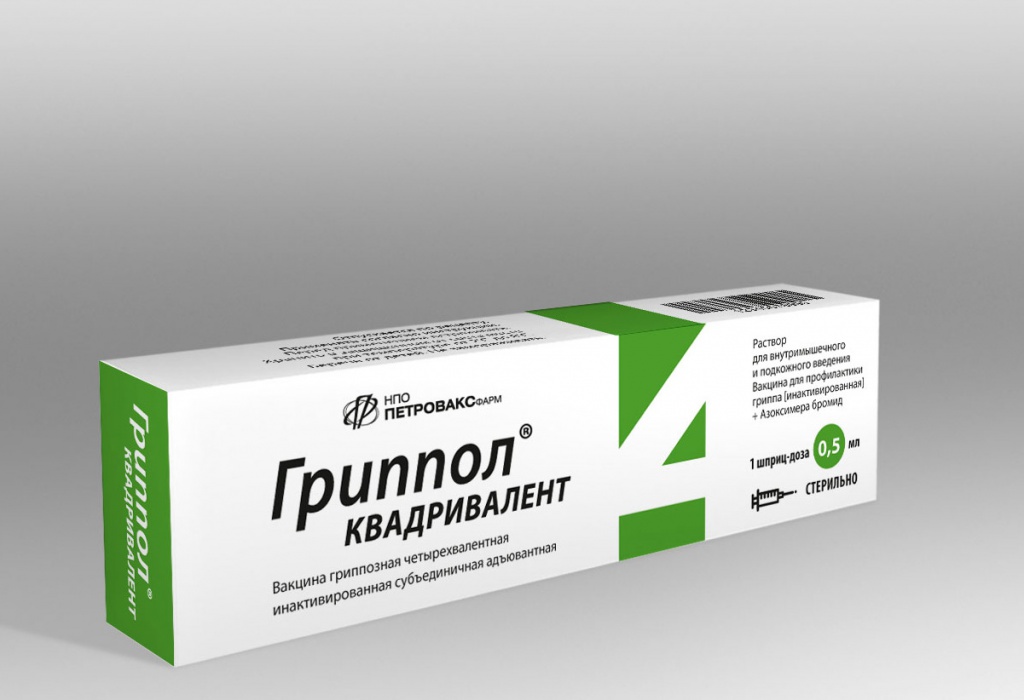 In September 2018, Grippol vaccine family increased to include Grippol® Quadrivalent, the first Russian 4-valent flu vaccine to protect against two flu type A viruses and two type B viral cell lines (Victoria and Yamagata). It is the most advanced flu vaccine in the world based on an antigen sparing technology, with a high preventive activity and safety.
A decrease in the body antigen load is achieved due to the use of Polyoxidonium (azoximer bromide), a water-soluble, biodegradable adjuvant that enhances the immune response to vaccination and provides for cutting the antigen load three-fold as compared to traditional technologies, i.e. for using hemagglutinin 20 µg instead 60 µg. The vaccine provides for an efficient antibody response supported by clinical evidence. Presently, only six countries, apart from Russia, manufacture quadrivalent vaccines on their own, including Australia, the USA, Canada, New Zealand, Germany, and France.
Grippol® Quadrivalent is indicated for vaccination of adults aged 18-60 years and children aged 6-17 years.
---
[1] http://www.who.int/influenza/vaccines/virus/recommendations/201502_qanda_vaccineeffectiveness.pdf
[2] О состоянии санитарно-эпидемиологического благополучия населения в Российской Федерации в 2017 году: Государственный доклад. — М.: Федеральная служба по надзору в сфере защиты прав потребителей и благополучия человека, 2018.—268 с., стр. 109-110
[3] European Medicines Agency, Guideline on Influenza vaccines: «...The stated amount of haemagglutinin antigen for each strain present in the vaccine is 15 µg per dose, unless clinical evidence supports the use of a different amount.»
[4] Ильина Т.Н. Оценка эпидемиологической эффективности гриппозной инактивированной полимер-субъединичной вакцины при иммунизации школьников. Вопросы современной педиатрии. 2009. т.8 № 5. С. 47-51.
[5] Ерофеева М.К., Никоноров И.Ю., Максакова В.Л., Ельшина Г.А. и др. Оценка эффективности применения гриппозной вакцины Гриппол® плюс у детей школьного возраста в период эпидемии гриппа 2008 — 2009 годов. Эпидемиология и Вакцинопрофилактика. 2010. № 4 (53). С. 80-86.
[6] Н.П. Шмелева, В.П. Шиманович, Н.В. Сивец и др. Оценка профилактической эффективности вакцины Гриппол® плюс при массовой вакцинации организованных взрослых и детских коллективов в Республике Беларусь. Эпидемиология и Вакцинопрофилактика. 2017; № 5(96): 33-42.
[7] А.А. Рулева, С.М. Харит, И.В. Фридман, Д.А. Лиознов и др. Результаты исследования по сравнительной оценке реактогенности и иммуногенности гриппозных инактивированных вакцин. МЕДИЦИНСКИЙ СОВЕТ. 2016; № 05: 47-51.
[8] С.М. Харит, Д.А. Лиознов, А.А. Рулева. Сравнительная оценка реактогенности и иммуногенности коммерческих гриппозных инактивированных вакцин: полимер-субъединичной Гриппол плюс, субъединичной Инфлювак, сплит-вакцины Ваксигрип. Эпидемиология и Вакцинопрофилактика. 2017. № 2 (93).