Petrovax cooperates with leading professional associations that contributing to the national healthcare system development. This cooperation strategy allows to form the most effective approaches to a civilized pharmaceutical market building, maintaining a productive dialog with the government, which promotes further industry development.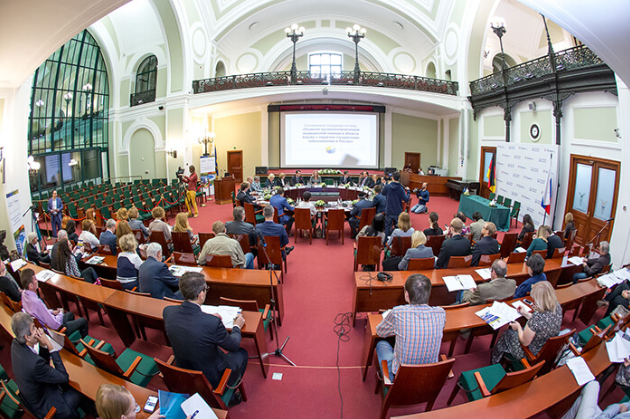 Petrovax is a member of the Union of Professional Pharmaceutical Organizations (SPPO), Association of the Russian Pharmaceutical Manufacturers (ARPM), Society of Pharmaceutical Manufacturers of the Eurasian Economic Union (SPMEEU), Noncommercial partnership National Association of the Specialists in Control of HealthCare-Associated Infections (NP NASCI) as well as several other industry associations.
Each of these associations contributes to the resolution of strategic and operative issues, having a significant influence on the pharmaceutical industry. These associations make it possible to draw the attention of the state to the acute issues the pharmaceutical industry is facing.
Petrovax actively supports the measures promoting the development of the national healthcare system. As a part of its social, research, and educational strategy, the Company participates in the most significant professional conferences held by professional associations as well as the Russian Union of Industrialists and Entrepreneurs, the Chamber of Commerce and Industry, the Ministry of Health, the Ministry of Industry and Trade, the Ministry of Economic Development, and the Russian Academy of Science.
In 2021, Petrovax became a winner in the categories Exporter of the Year (export rise by 22% in monetary terms) and Partnership of the Year (agreement with CanSino Biologics Inc., the leader in the Chinese immunobiological industry, on developing and further production of Convidecia COVID-19 vaccine) of Russian Pharma Inspiration Awards.

CONTRIBUTION TO THE DEVELOPMENT OF THE MOSCOW REGION
Petrovax Pharm is one of the largest pharmaceutical employers and taxpayers in the Moscow Region. In June 2021, NPO Petrovax Pharm, LLC and the Government of the Moscow Region signed a cooperation agreement to improve the investment environment and economy of the Region. As part of the project, Petrovax is planning to expand high-tech biopharmaceutical manufacturing in the Moscow Region to produce socially significant drug products and vaccines.