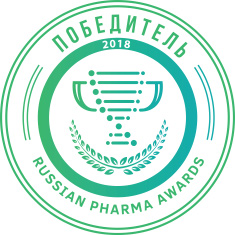 At the 7th Russian Pharma Awards ceremony on 29 November 2018, two Petrovax Pharm's pharmaceuticals were recognized the Products of Doctors' Choice.
Petrovax Pharm's Polyoxidonium® has become the winner among pediatricians in the category 'The Medication of Choice for ARVI and influenza treatment and prevention in children'. Importantly, it was Polyoxidonium's third win in this category. This year, Petrovax Pharm's products were for the first time recognized by urologists. Longidaze® has won the category 'The Medication of Choice for pathogenetic treatment of chronic prostatitis and relapse prevention'. This award is a well-deserved recognition of the product's efficacy as a chronic prostatitis treatment due to unique formula, mechanism of action, and high quality.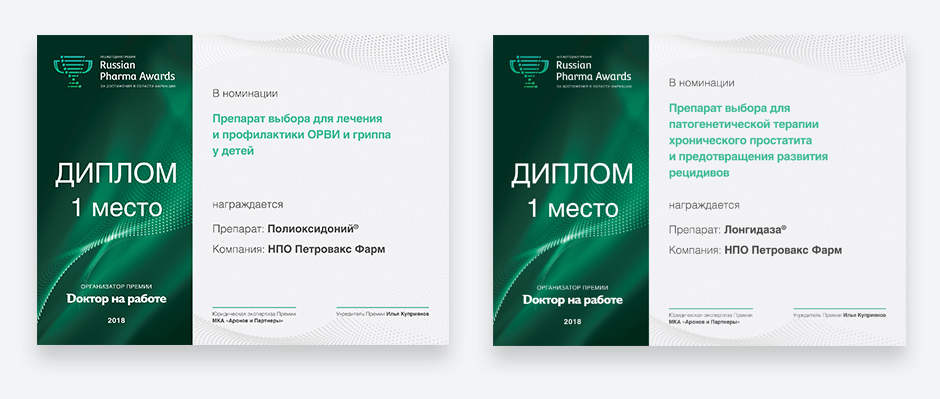 It is of very high value for the company to receive Russian Pharma Awards in two categories at once. It is indicative both of the recognition by independent experts of Petrovax Pharm's products efficacy and evidence of professionals' trust with regards to the company's innovative pharmaceuticals manufacturing experience. It also confirms a high level of demand for the company's products among the medical community. All these give our team an impetus to move forward.

Victoria Zakharenko, Petrovax Pharm's Head of Marketing

The Russian Pharma Awards contest is among the most significant events in the pharmaceutical industry as it reflects an unbiased and independent opinion of the medical community. Doctors vote for the pharmaceuticals that, based on their opinion and experience, may be considered the best treatments for specific diseases and conditions. A wide-scale voting for different categories takes place at www.doktornarabote.ru.